Winter 2015-2016:
Sorry for the lack of updates; a few maps should have been reviewed but I've basically spent my free time on playing Waifu Returns and Rainbow Six Siege. Anyway, here's Sanek's DoomBox.
February 5, 2016: Blast from the past!
Remember an old map called The Monastery of Darkness? You just might, and here's a 20th anniversary update of that very map so check it out at Hot Maps.
Also check out Sludge Plunge by Mister Sinister. The map was released only some minutes before this update so I didn't have time to review it for today but I'll get around to doing that soon.
January 13, 2016: Unknown Planet reviewed!
Here's finally a review of The Unknown Planet.
January 1, 2016: Unknown Planet!
We're kicking off the new year with a Hot Map release, The Unknown Planet by the legendary author Maarten van Oostrum. No review yet though as I'm slightly busy, but I'll get one for you in a few days.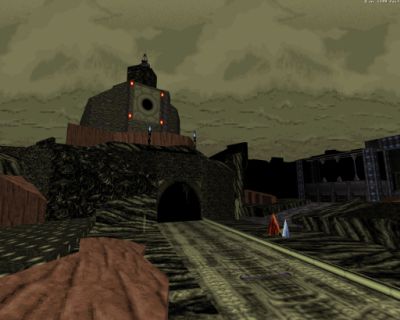 December 31, 2015: Wrapping up the year!
Here's Ghost Town Xmas, a fitting way to end the Holiday season 2015.
Time for our annual look at the number of new releases, measured in terms of new maps released on MSDN:
2004: 50 new releases
2005: 36 new releases
2006: 30 new releases
2007: 21 new releases
2008: 40 new releases
2009: 34 new releases
2010: 26 new releases
2011: 21 new releases
2012: 29 new releases
2013: 28 new releases
2014: 22 new releases
2015: 19 new releases
While a low number compared to the previous years, it includes quite a few multi-map releases such as The AMC TC: Episode 2, Anarchy Village, Electric Highways (the first EDuke32 mod to be released on Steam) and TamDuke. (Of course each of these counts as a single release for obvious statistical reasons.) I even released a small map myself, and there's a big map by me in the AMC TC 2. So, as a whole, the year has been quite fruitful. Happy New Year!
December 24, 2015: Ho ho ho!
Another Duke year is approaching its end but we've still got a week before we wrap things up so there's still a chance to end the year on a high note. Anyway, this being Christmas, here are some Hot Maps for you to play with: Pipe Dream (AMC TC 2), South of Heaven and Bite the Dust. Grab those in case you haven't already and enjoy your Christmas!
Just a little heads up that Decay has finally been released. This project has been under construction for a very long time. It's got a zombie theme so some of you might get a kick out of it. Note that Polymer is pretty much a necessity. I'll get around to playing it a little later; I tried out the first map and the framerate was somewhat acceptable after switching to a much lower resolution.
December 6, 2015: Tampere!
After ten years of development, TamDuke, a 10-map episode that takes place in a Finnish city, is finally out. Check out the MSDN review here.
Also, Zykov Eddy's Electric Highways has been released on Steam! This is the first EDuke32 game that's been released on Steam, and it's free. If you wish to support the authors, you may purchase the rather awesome soundtrack.