Alien Versus Predator TC
by Slawomir "LAW" Lawrynowicz
Go to:
Alien versus Predator 2
Alien versus Predator
AvP Usermaps
---
Alien versus Predator 2 | MSDN Review
In this long-awaited sequel to AvP, you step into the boots of a Predator. Your mission is to hunt down a renegade Predator who's wrecking havoc on Earth, bringing much shame to your honorable clan. Along the way you'll encounter both human and xenomorph enemies and to deal with them you're given an arsenal of Predator weapons.
The pack only has two new levels of which the first one is a short intro map. However, the actual mission map, known as "Race War", is a kick-ass experience. If all turns out well, more maps might be on the way. There certainly is plenty of unused material in this "base pack" for an entire episode.
---
Alien versus Predator | MSDN Review | Download (10Mb)
'Alien Versus Predator' by LAW has been under construction for four years (remember those very early shots years ago here?). Now it's finally done. It has six new levels, lots of new enemies, guns, sounds, artwork and con-hacks. Mostly the kind of stuff you'd expect to find from every Alien/Predator mod.
'AvP' could be considered to be a sequel to the movies. Many of the locations are from the movies. The levels are great - you'll visit the colony on LV-426 (plus their Atmospheric Processor), the hidden Weyland & Yutani research facility somewhere on Earth, the jungle area surrounding it and even Nostromo where you have to face Alien without any guns. The levels have cut-scenes - maybe not as 'living' as those scripted sequences in Half-Life but surely enjoyable and unique considering the fact that this is just a conversion for Duke3D.
So don't waste any more of your time - The levels are great, the monsters are scary and the guns kick ass so you better download this pack before someone tells LAW you didn't. Click the download link and enjoy your ride.
---
AvP Usermaps | Return to Fury 161 | Predator 2
Since the release of Alien Versus Predator Total Conversion LAW has released two usermaps from what was supposed to be a sequel to AvP. Rather than abandoning everything, LAW polished, packed and released two of the "lost" levels. The first of the two is based on Predator 2, the film, while the second one is set in the Fury 161 facility from Alien 3. Download Predator 2 HERE and Return to Fury 161 HERE.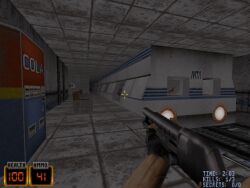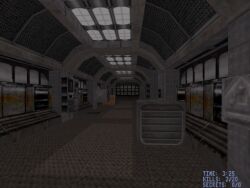 ---