Winter 2011-2012:
March 28, 2012: Game review!
Here's Tomb Raider: Underworld.
Finally, here's a review of Duke It Out In D.C., the first commercial mission pack for Duke3D. I was supposed to do this a long time ago but didn't because I never got around to replaying the pack until now. Maybe that's because I always quit upon getting lost in the Smithsonian...
March 10, 2012: The Stairwell!
Here's Zykov Eddy's experimental horror map, The Stairwell.
And here's a review of Metropolitan Mayhem, reviewed by Gambini!
March 3, 2012: Metropolitan Mayhem!
I give you Metropolitan Mayhem, a 15-map episode by MetHunter, MRCK, me & Merljin van Oostrum. This might as well be considered the fifth Duke3D episode that for some reason was never shipped with the game. This episode is without a doubt the most epic Duke3D adventure since Last Reaction & Water Bases. If you loved Duke3D's city maps (and if you didn't, then fuck off and go play Pong), there simply is no good reason to miss Metropolitan Mayhem.
Some screenshots: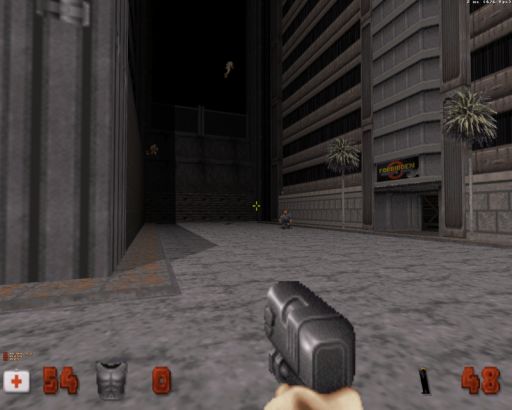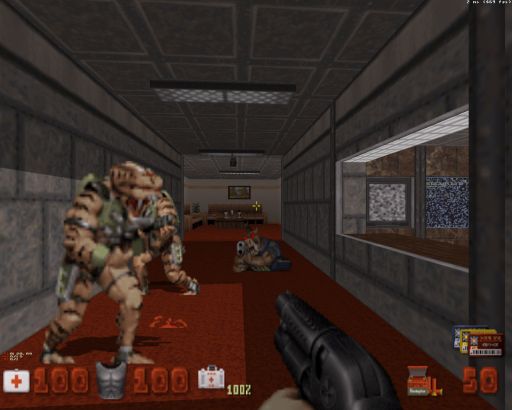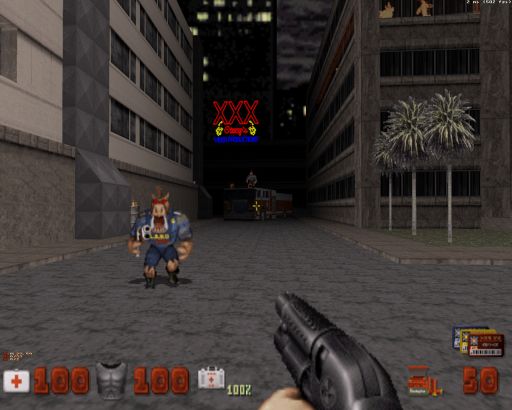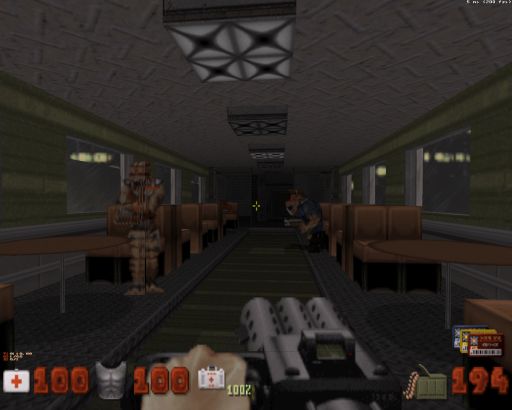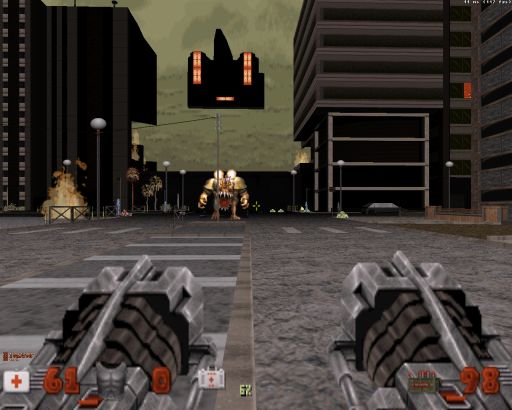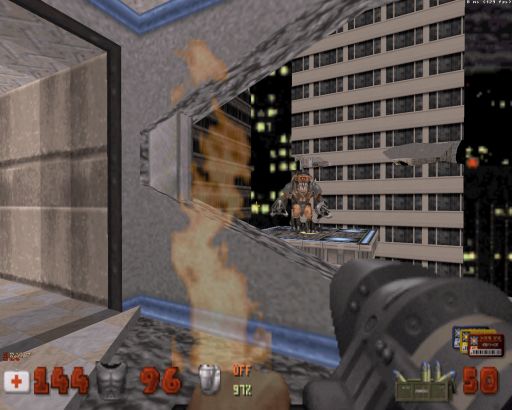 February 26, 2012: Sin Center!
Here's Sin Center, a 3DR-type city map that MetHunter started working on years ago and I helped him finish when I got an almost-finished version of the map about a week ago. Guest review provided by Gambini.
February 13, 2012: New CBP!
Here's the first 1.5-Hour CBP. Each mapper (including myself) had a maximum of 1.5 hours to build their maps. The pack includes 10 such speed mini maps.
January 29, 2012: The AMC TC!
Finally, here's a review of the awesome AMC TC!
Also, the site should be pretty much bug free now but I strongly recommend Firefox for browsing. Some things may look a bit off in IE.
January 24, 2012: PHP & Routine!
I've been trailing developments in web design for years now, the prime example of that being sticking with old HTML frames. This has caused some problems with linking to individual pages, among other problems. But that is no longer the case! Gone are the HTML frames. The frames you're now seeing are simple CSS "fake frames", all managed via a stylesheet. Another thing you may have noticed is that all pages are now php pages rather than shtml pages. What I didn't do is fix every single internal link (.shtml-->.php) but there's a redirect function that should take you to the corresponding php page whenever you click a broken link. There are still some visual bugs but the vast majority of the site should be perfectly functional at the moment.
And to celebrate this, here's Routine, a hottie worth 90 points. (via Dukespana)
I added better looking "nuke" rating symbols for game reviews. Alice: Madness Returns reviewed. New Duke3D maps on the way as well as a review for AMC TC.
January 9, 2012: Parkade!
Here's Parkade, mentioned in the previous update. Read the review before playing (as you should always do!) though so as not to be surprised by the level's performance.
January 5, 2012: Cherenkov Station!
It's been a while since someone put out a new space map but here's one, Cherenkov Station by Supertanker.
You might also want to check out Parkade at Duke4.net but it's recommended that your computer has an NVIDIA GPU.
January 2, 2012: New Year, New Maps!
A bit of time to reflect on the past once again. Here's how the year 2011 stands in comparison to the preceding seven years, once again solely in terms of "new maps/mods released at MSDN".
2004: 50 new releases
2005: 36 new releases
2006: 30 new releases
2007: 21 new releases
2008: 40 new releases
2009: 34 new releases
2010: 26 new releases
2011: 21 new releases
In other words, 2011 was the worst year since 2007. We hit a slump with the release of Duke Nukem Forever, a game that disappointed everyone. But luckily we've been picking up speed lately, culminating in the release of the AMC TC (see previous update), the best TC in the history of Duke3D.
Here's a map that was released last year: CyberDuke. Since the map was released last year and since I had every intention of reviewing it then, this release counts toward the 2011 release count. In other words, there are no new maps for the year 2012 yet. But 2-3 projects are just around the corner so this January/February should see a couple of new releases. Keep an eye on this space!
December 25, 2011: AMC TC!
After years of blood, sweat and tears the AMC Total Conversion is finally done! Not only am I featured as a playable character in the TC but I also contributed one map and worked on several others. At the moment the TC consists of "only" one episode but there's such richness in this TC that one AMC TC map alone can beat feature- and design-wise an entire 4-episode TC. All of the maps have been designed exclusively by the old AMC (Alejandro's Mapping Center) guard: James Stanfield, HighWire, Fakir (Geoffrey), Sang, Rusty Nails and me! (There's also an extra episode that consists of classic usermaps by various authors.) Storytelling in a mod based on the old Duke3D Build engine has never before reached such heights. Btw, the mod is standalone so you don't even need Duke3D.grp to run it!
Download the TC: https://msdn.duke4.net/AMC_THE_TC_V1.05.zip
Read (and post!) comments here and here.
Edit: First review available at Scent-88!
Oh, and: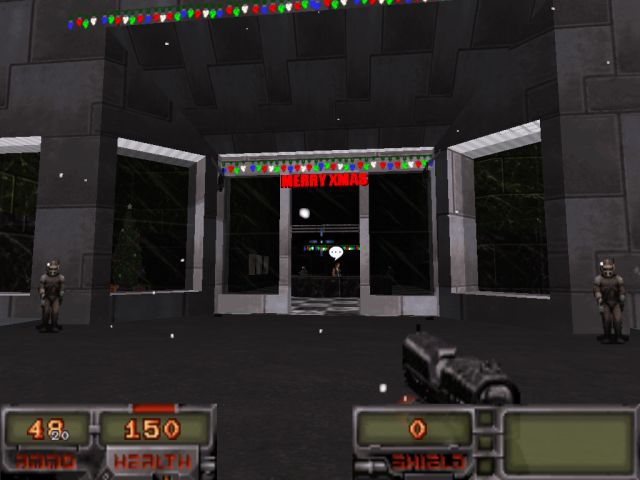 Just letting you guys know that we're very close to releasing a brand-new Duke3D episode that consists of 14 or 15 small-to-medium-size maps.
On top of that, the AMC TC is about one testing phase from the finishing line as well. So, lots of goodies on the way!
Also, check a trailer I just made for my Half-Life mod, Fate Reversal.
Here's a review of STALKER: Call of Pripyat.
December 9, 2011: Retaliation!
Here's Loke's latest: Retaliation, a map that utilizes the new room-over-room EDuke32 effect.
December 2, 2011: Duke 12:12!
Amazing, we have a brand new Duke3D map release! Forge is back with Duke 12:12, a sequel to Duke 6:8. Do not miss this 95-point map!
November 21, 2011: Update!
Wohoo, some activity. RCPD has been updated so grab the new version today.