23rd of March 2012
Duke It Out In D.C. by Sunstorm Interactive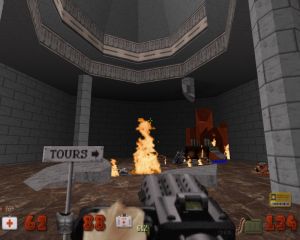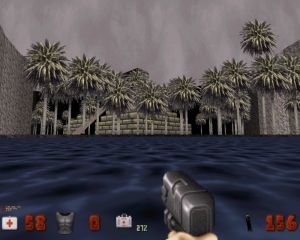 (Note: If you wish to play this in EDuke32, you should use this patch by "supergoofy" to convert the SSI file to a GRP file.)
Sunstorm Interactive's Duke It Out In D.C. was the first of three Duke3D mission packs. The aliens have invaded Washington D.C. and taken Bill Clinton, a fellow ladies' man, hostage. There are ten new maps of which one is secret. With the exception of some good quality textures, everything from monsters to assets is from the original game. There are no new guns, no new enemies and even the soundtrack is directly (order unchanged) from E3. This leaves us with the ten maps. Playing this in 2012 you're bound to catch areas that look subpar but overall DC is a nice and even generous collection of thematically interesting maps. They carry that same sense of location that made you feel like you were visiting authentic locations in the original game. You get to visit the White House, the Lincoln Memorial, the J. Edgar Hoover Building, the Smithsonian etc., maps of varying sizes and distinct themes, most of which were designed by Robert Travis, who began his career as a usermapper (Anslem, Beta One, Aztec etc.).
While well designed, this interpretation of America's violent capital is a bit dull. One-liners and chicks hardly make an appearance despite opportunities the capital's reputation should provide. In other words, DC is lacking the elements that a Duke game needs. Even violence seemed toned down. No surprise then that my favorite map was the short visit to the Capitol Hill which had actually been made to look like something under vicious alien attack, unlike all the other somewhat sterile maps in the pack. It's as if Washington had capitulated without putting up a fight, its inhabitants fleeing long before the invasion (or maybe that's a reference to the Democrats being in charge).
Conclusion: As a commercial mission pack Duke It Out In D.C. is slightly disappointing, lacking in content, but as a map pack it delivers. However, even then this Washington D.C. doesn't quite live up to its, or Duke's, infamous reputation.
Score: 8
Download: Commercial
Version: Both
Author: Sunstorm Interactive