Spring 2016:
DeeperThought recently released his Star Wars-themed mod for Duke Nukem 3D called Duke Forces, borrowing assets from various Star Wars games. Anyway, it's been reviewed so check it out here.
April 28, 2016: Something different!
MetHunter released a map for Shadow Warrior a few days ago called Showdown in Suzhou where Lo Wang is on a mission from Brad Pitt. It's a good map taking place in a city that's been described as a "Chinese Venice", allowing the author to combine urban themes such as apartment buildings and restaurants with more natural environments, keeping things fresh as you make progress. It has a familiar mid-'90s open layout with many visitable locations - including a large but completely optional underwater section - and secrets. There's also a boat section where you get to mow down powerful enemies with satisfying ease. (Just don't make the same mistake I initially made in assuming you cannot control the boat; it doesn't seem to work if you're crouching.) Overall the map is pretty tough, especially if you haven't played Shadow Warrior in a while, but its many paths and secrets hold tons of goodies, making this one of those maps where exploration pays off. Anyway, not many of these are released these days so give this one a try. Download Showdown in Suzhou here.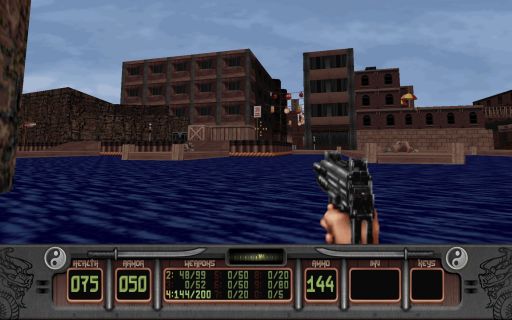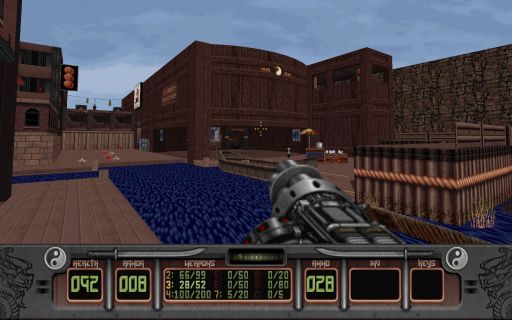 April 21, 2016: The 17th!
MSDN turns 17 today, so here are a few presents. First, a brand new map by Mister Sinister, Close Range, released today no doubt to commemorate the glorious birth of this website. Second, Graveyard, a four-map Polyer mod by Mark. This mod is all the way back from January 2015 but there was a bug in the first map that prevented me from progressing further, so I forgot all about the mod despite a patch that fixed the issue. Anyway, better late than never.
And here's something special; a top-down plan for what was supposed to be my very first Duke3D map, simply called "Roofs". I actually drew this plan in late 1997 before I had even obtained the Finnish Build guide so I had no idea how to even use the editor when this was drawn, but I was betting on getting my hands on the guide. Ultimately this didn't turn out to be my first map although I did later build a map based on this plan; I'll see if I can find it at some point. As you can see, the idea is pretty simple; four buildings with gameplay taking place mostly on top of them with two indoor sections accessible through vents.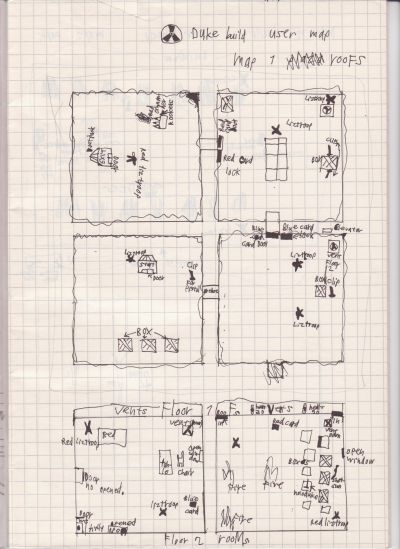 (click to enlarge)
April 3, 2016: Octo April!
More weirdness from Zykov Eddy, check out his Octo Desperado for a bit of early April fun.
You might also want to take a look at Baserape but only if your computer can manage it. Two frames per second (I wish this were an exaggeration) quite isn't anywhere near playable so this one's gonna have to wait as far as I'm concerned. Maybe one day...
This one is a bit late but here's a review of Sludge Plunge.