Winter 2008-2009:
February 19, 2009: The Last Time Pissed!
A streak of Russian releases ended last week with the release of Oblivion but now we've got another Russian map in our hands. Check The Last Time Pissed by Lezing. The map utilizes LEBuild, is full of innovative puzzles and scored 96.
February 9, 2009: Oblivion Finally Done!
It's been under construction for five years and now it's finally here, the full version of Zaxtor's Oblivion Total Conversion. First three episodes of the TC were released over the years; the full version includes the three episodes plus two more episodes, bringing the map total to more than 50. The Oblivion section has been updated with a download link - a review will follow later. The whole five-episode TC is available here (mirror here).
Screenshots: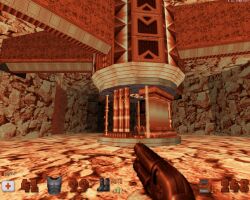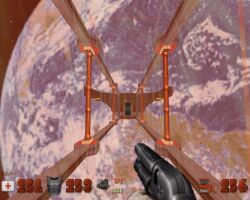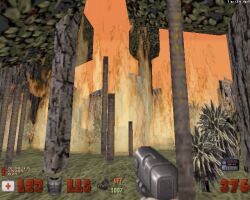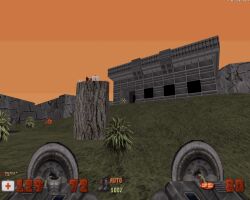 January 31, 2009: Infestation in Time!
The first month of 2009 was dominated by Russian releases. Zykov Eddy recently released a new version of Infestation in Time, which was first released last December. The Total Conversion has now been reviewed and can be found here.
January 23, 2009: RCBP 2!
Russian Community Build Project 2 is a huge city map that was released right before Christmas and has now been reviewed here. This map may take an average player even an hour so just sit back, relax and enjoy this hottie.
January 13, 2009: The Dream 2!
Several new maps have already been released this year of which the first one to get reviewed is The Dream 2 by Zykov Eddy.
January 9, 2009: Previews & reviews!
A new game review, Portal, and a new Duke3D map preview, Outpost X, added.
January 2, 2009: Heading for 10!
This spring MSDN turns ten. 21st of April 2009 will mark one of the most important dates in human history.
But that's still more than four months away. Now we're focusing on the past, namely the year 2008. We had a good year. After a disappointing 2007 in terms of fresh Duke3D releases 2008 pumped out more than 50 new maps. Below is a list from a year ago plus 2008. Only new maps released and reviewed at MSDN are counted so the actual number for each year is a bit higher.
2004: 50 new releases
2005: 36 new releases
2006: 30 new releases
2007: 21 new releases
2008: 40 new releases
Hopefully this positive turn lifts your spirit and convinces you that Duke3D is still far from dead. As far as I know, once again we did better than Doom, Quake 1/2 or Unreal.
What was particular about 2008 was the number of fresh faces. Well over 50% of all new releases were from authors who made their debuts this year (including Gambini, MiaMax, ILoveFoxes and a sudden influx of Russian mappers). Another particular feature of 2008 was the inflow of maps specifically designed for DukePlus. It's possible that DukePlus and the DNF teaser released a year ago contributed to the number of new releases.
I'll repeat my suggestion from a year ago: Let's make this year better than the last one!
December 28, 2008: Happy Hangover!
Just as I was thinking that we're going to wrap up this year with relatively few releases from known mappers MRCK comes up with a brand new city map. See Happy Hangover for some action and adventure in Roch and Red style.
December 23, 2008: Skycity 2 & City of Despair!
A particularly good Duke year is approaching its end but now it's not the time to think of the past or the future but to celebrate Christmas and what better way is there to celebrate Christmas than by shooting alien scumbags? I've got two relatively new maps in my bag, SkyCity 2 and City of Despair (thanks Stef for pointing it out), both hotties.
Infestation in Time and Russian Community Build Project 2 will be reviewed within a few weeks but in case you can't wait feel free to take a look at them now.
So, Merry Christmas (which to me signifies prosperity, consumerism and good food since I don't believe in any of that baby Jesus nonsense) and in case "Santa" tries to break in, do what Kevin would do and shoot him in the head: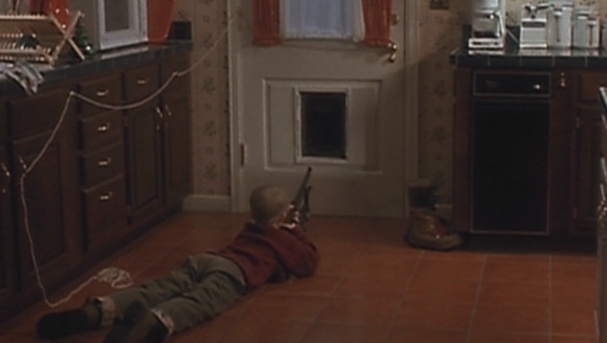 December 15, 2008: Skycity 3!
ILoveFoxes (remember Skycity?) has come up with another kick-ass city map, Skycity 3, which features a new effect - reflective windows.
December 8, 2008: MegaCity 2000!
DNR found it and I've been wanting to play it so here is MegaCity 2000.
November 28, 2008: Aliens!
Now this is something totally new... Not! Check Zykov Eddy's Aliens TC Demo, another "brand new" kind of Aliens themed mod.
November 7, 2008: Arctic Alert!
Piterplus JR is back with a map that features a set of new con effects. Check Arctic Alert! for some kick ass gameplay!