Winter 2005-2006:
February 27, 2006: Center For Disease Management!
Reginukem strikes again with another "cover" map. This time it's based on a Blood 2 level. Check "Center For Disease Management".
February 22, 2006: Buenos Aires Explosive Remake!
DavoX hits the public with a brand new Hot Map named "Buenos Aires Explosive Remake". This city map has its flaws but it's still an excellent action-filled city map with tons of detail-filled streets.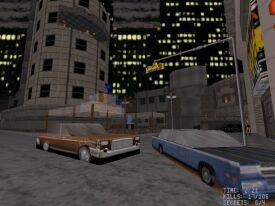 February 12, 2006: Two reviews!
Duke's Birthday parties continue. Check LAW's "Club Doom" (Hot Maps) and Phoenix's unlinear "The Theft (Der Wald)" (Hot Maps).
Our friend Fakir moved to a new host right here at Planetduke!
I'm off to watch DAREDEVIL - with BEN AFFLECK!
It has been a week without an update - sorry guys but this is what happens when you get too lazy or just don't notice how the time passes.
There's been a few noteworthy reviews at AMC. Check Stef's reviews of Inferno TC and Blind Alley.
A bunch of community dudes - including me - are working on a new CBP map. At the moment it's my turn to build. However, it might take a while before this thing gets finished. Here's a shot (Steambull's part):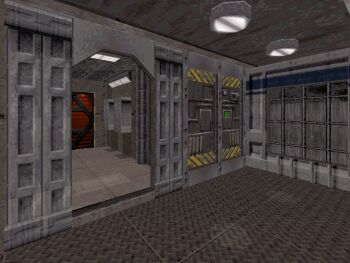 Also, here's a shot of my X-Mas map which should be out shortly: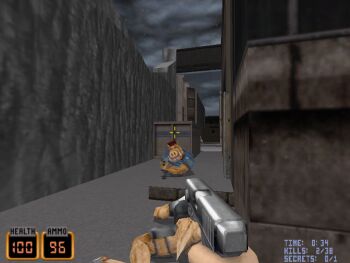 January 29, 2006: Duke turns ten!
Booyakasha!
Duke turns ten and the best way to celebrate is to map like a madman. A bunch of people were given 1-3 days to build a map that concentrates around the anniversary theme. Today, a pack of seven maps was released, all joined into an episode. "Duke is Ten" is the name of this Birthday present and it's available under Special Releases in Hot Maps section.
Also check Iggy's review of the pack.
January 22, 2006: Needle Time/St Duke Hospital!
No idea how this level go to my computer but there it was - just standing there on my desktop. So I gave it a try and was quite surprised. "Needle Time" is an excellent hot map where Duke has to clean a hospital of alien scums. Check Hot Maps.
January 13, 2006: Arctic Wolf!
LAW's old, but unreleased, map got updated and released. Check Arctic Wolf at Hot Maps.
And in case you missed (over a year ago), check LAW's Alien Versus Predator TC.
January 9, 2006: Alien TC Demo trailer!
The Alien TC, being worked on by Rusty Nails and Mblackwell (the so called "RustWell" duet), is on its way to have a demo. Meanwhile, the team released a teaser trailer showing some in-game action. The video makes it evident that the release is going to be closer to AvP (by Rebellion) than Duke Nukem.
Download the trailer HERE (it's recommended that you play the video in fullscreen mode to actually see something) and check the following sites/forums for more info and kick-ass screenshots:
Alien TC Development Blog: http://builddiary.blogspot.com/
Alien TC site: http://mb.mirage.org/atc/index.htm
Alien TC Forums: AMC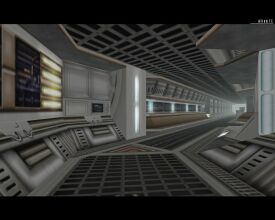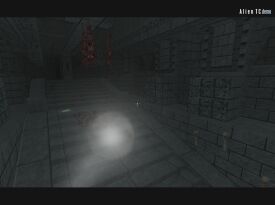 January 8, 2006: Aqua Base & a preview!
Reviewed Aqua Base at Hot Maps. Check it out!
The author, Supertanker, is also working on another project called "Moonbase Regula 1" of which a preview screenshot was just added to Upcoming Maps section. Check it out!
January 1, 2006: QContMS & Happy New Year!
Finally, you can download my new map - QContMS. Sorry but there's only a Fileplanet link available so you've got to deal with it. Download the map here. The map has a new fantastic skybox so you need Jonof's port to see it (but the map works fine without Jonof).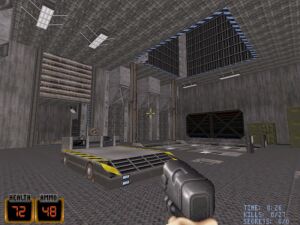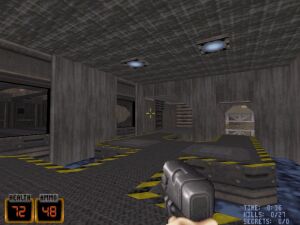 My another brand new map is about to be released shortly.
Happy New Year and thanks Planetduke for hosting my crappy site!
I was going to release 1-2 levels (by me) today but I just couldn't find the time to give them the very last finishing touch. Therefore, I have to push their release date a bit - maybe by a week (since I will be out of town from Monday to Friday). Both levels are almost 95% done and I just don't want to release them even partially unfinished. Below, you'll see two shots, one from both levels. Scroll down to take a look!
Join the rest of us here to talk about the best levels of 2005. It seems that, after all, 2005 was a pretty good Duke year. Don't forget some of the best Christmas releases from the last seven years. Check here, here, here, here and here.
Merry Christmas!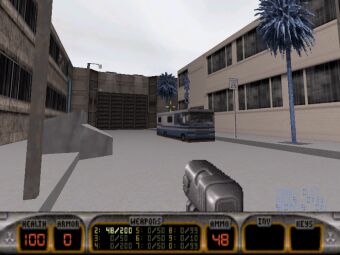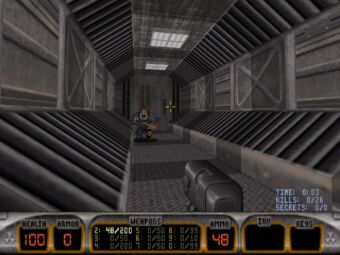 Dick Solomon wishes Merry Christmas: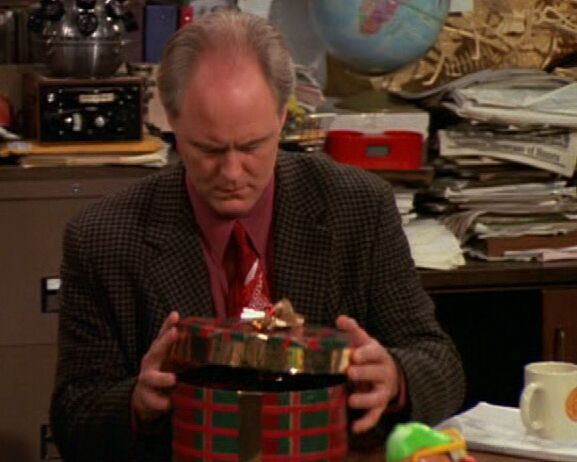 December 18, 2005: Retrospective!
"Retrospective" was released years ago but has recently been given a significant update which adds many more minutes of gameplay. Check the review here and enjoy the map.
It's Christmas time soon! I'll be updating the day before Christmas.
December 12, 2005: Agent 007!
"Agent 007" has been on my "to review" list for a few months now. Better late than never. The map got reviewed a minute ago. Read the review & download the level here (at Maps).
Also added "KaiseR Land 3" to Upcoming Maps.
December 10, 2005: Previews!
Added three "upcomings" to "Upcoming Maps"; Aquatic Base, WGRealms 2 and Oblivion Ep.3.
November 29, 2005: Map of the Week!
Don't forget yesterday's update (Munasta Part 3), I'm here only to remind you that our "Map of the Week" project continues at Alejandro's Mapping Center. I've posted two levels within two weeks - the kind of levels you might have missed although they have been available here (at MSDN) before. Check AMC.
November 28, 2005: Munasta 3 out now!
Check Munasta Part 3 review at Hot Maps.
November 13, 2005: Munasta 2!
"Munasta Part 2" by Phoenix is out (has been out for a few months now) and reviewed. Check Hot Maps.
Also, Duke3D High Resolution Pack has been updated. Check it out - it's pretty cool.