Summer 2002:
August 12, 2002: Last level before school!
That's right. School is going to start again tomorrow (it's actually today cuz it's 0:37Pm now).
'Retrospective' by Kevin Cools & Juha Laaksonen has entered The Great MSDN today. This map comes a bit late but well - better late than never. It's a good city level. Get it from 'Hot Maps'.
I also made a new review to 'Game Reviews' section. This is not a game but a Half-Life mod called 'Sweet Half-Life'. It just might be the best single-player thing out there. So check SHL review right now.
And some mapping news: Jason Bredhauer(the guy behind all those great 007 TC levels) is working on another 007 TC level (this is the TC that never got out). This new one is going to be better than any of his previous levels (or that's what he says) with good puzzles & mission based things. Once the release date moves closer - I'll let you know more.
A demo (not even that) of 'City Crackdown' has finally been released after three years of wait. This demo has three levels (not even that) and some new weapons & art. Download DNCC demo from the DNCC site or in case Fileplanet is trying to steal your money (which it seems to be doing today - I tried to download some HL stuff & this DNCC and it only showed me Personal Server locations) then go to AMC and download it there.
DNCC Demo has been now reviewed here too. Check section 'TC Reviews' to read it and then decide if you wish to download it.
'SUPA 2' from Sangluss is now released & reviewed. Check 'Maps' section and get it there.
August 4, 2002: Passenger Jet! & Labrenth 2!
Remember Jason Bredhauer? You should. He made some excellent levels for 'Duke Is 007 TC' which was abandoned. Some levels were released and I reviewed about four of them a year ago. I promised also to review some new stuff from Jason but it took longer than I thought. Jason's 'Passenger Jet' is now completed (well it was completed some years ago but Jason made some improvements) and available here. Check 'Hot Maps'.
William Gee's lates is 'Labrenth 2' which has very design & lighting. It's a dukematch lelel which you'll enjoy. Check 'DM Maps' section.
More maps will come. A level created by two men - Kef Nukem & Juha Laaksonen will enter this site soon. Also SUPA2 probably and some 'Out Of The Grave' levels. Enjoy your last holiday days and visit MSDN.
July 31, 2002: LA Duke 2002! & Sewage!
Two hotties today - one old & one fresh new level. 'Sewage' is today's 'Out Of The Grave' level from Alan Page. It's about three years old. New & fresh level is 'LA Duke 2002'. It's a hotel level which is similar to 'Hotel Hell'. Both scored well and are available at 'Hot Maps' section.
Dukebert's site is back online - no updates or anything special but it's back. This site used to have lots of good quality levels, Hall Of Fames etc. but now it only has Dukebert's own levels. So in case you are a newbie or oldschool Duker then head towards DMZ.
Next update will bring you at least one level from William Gee & some other stuff too.
July 27, 2002: Go Back Home! & Provide Relief
This time I'm offering you one old level and one new level. Old level is a city themed 'Provide Relief' that scored 85 and so it can be found from 'Hot Maps'. Read the review carefully. 'Go Back Home' isn't the best map out there but worth trying so if you have any extra time for Duke today then go to 'Maps' and get 'Go Back Home'.
This time no 'Out Of The Grave' levels but that theme will keep on going again once we get to our next update.
There's also this another CBP (Community Build Project) project going on at AMC site. 14 people have joined to work together on a level - I myself joined too even I haven't Builded at all nearly in two years now. Once the project moves forward I'll send you some news.
JS from JSBuild finally released his Unreal Tournament levels. They are looking very good and I'll send more my comments about them once I have tried them. So go to 'JSBuild' and check Forums for more information.
July 22, 2002: Jailbird! & Zerohour!
MSDN's 'Out Of The Grave' (yes I stole that word from TenfourMaps) thing continues with old classics (that haven't been available here before). 'Jailbird 2' has been reviewed and it's available for you to download at 'Hot Maps' section. Go and get this great level from the past.
Finally a TC review. 'Duke, It's Zerohour' is an old classic that I should have downloaded millions of years ago. Anyways now I completed it and it's reviewed at 'TC Reviews' section. Go and read it and if you like the things I say then download it.
Once again - I'll be gone for a few days.
July 19, 2002: 2121 A.D.!
WOW! I received this level from Bob Masters few days ago and it's fantastic. Futuristic city with lots of new innovations. PLAY THIS LEVEL OR DIE! So just go to 'Hot Maps' then choose 'Latest' and then '2121 A.D.'. Review is huge and so is this spectacular level.
More levels will come (& those TC reviews that I promised a month ago).
July 16, 2002: Mothership
I downloaded some old classics and decided to review almost every great level that hasn't yet entered MSDN's Hot Maps section. So shall we start with 'Mothership' by Pipeline? Yes for sure. So this level is a classic from the author of 'Hell Station'. It's a medium size alien ship with great design. Get if from 'Hot Maps' section - score 92.
Only two days since last update but because I have taken some time off lately from MSDN because of my vacation I have decided to give you some levels that you might have forgotten. So next update will bring you some classics and a new level by Bob Masters. If you forgot to download Bob's previous map then get 'Asylum' right now.
Now I'll be heading towards the beach so see ya later.
Download previously released MSDN levels: The Alien City & WGDoom1.
Well to be completely honest with you I was gone AGAIN. I spent whole week somewhere else and I got some more money & red back. But now I'm here to help you people with some Dukeing stuff (if you need any).
So I just arrived some hours ago and I have some good plans for the rest of the summer but right now I don't care about those things. I only care that you must play this new level which's called 'WGDoom1'. It's a re-creation of Doom's E1l1 and it's worth 78 points. Well it's fun and well designed but... Well get your infos from 'Maps' section where you can find the review & release of 'WGDoom1'.
Oh and by the way... 'Age of Apocalypse' rules.
July 8, 2002: Back To Business
It feels sooo good to be back. No more mosquitos:) To be honest I must tell you that I was having a fun time at my friend's cabin. It feels strange to type these things down at my computer now after being a week without it.
And oh my god how many usermaps I had received during this week - ZERO! That's right. So it looks like you all have been busy.
But when I finally got my hands on this computer I went to 'We Store Your Crap' & 'Alejandro's Mapping Center' and oh my god how much they have done during my trip.
Alejandro has updated his site almost every day with some oldnew maps. He added a new section to his sites which has TC reviews. My 'MSSP Episode v3.0' was also reviewed there (thanks Alejandro) and it scored well.
Kef has completely redesigned his site with new levels (but hey where did all the old ones go?). Kef also added some DNMP stuff there (only review for now).
It looks like they finally published a demo of DNMP. During my trip I was really close to buy DNMP but I didn't. We'll see about that later.
I found this nice city level from AMC yesterday. It's called 'The Alien City' and it's similar to original DN3D city levels. Download it from 'Hot Maps' right now.
Reviews are coming (maps & TCs) soon.
June 30, 2002: News - summer cottage
I'll leave tomorrow. I'll be once again having some real holiday by fishing & spending money on trash. I'll be back next sunday (7th).
Download latest levels: FbSp002, Blackened, Roch 7, Death.
June 26, 2002: Hot Map & Map & News
Once again I'm in a bad mood. Mostly because of the Sun. I was biking (bicycle) yesterday - a long trip - over 100 kilometers in a sun. Trip itself was fun but burning in the sun wasn't.
So I have two maps for you: FbSp002 is XXXstacy (from fourth episode) style level from FakirBaba. Level is city themed so I'm sure you'll love it. You can find it from 'Hot Maps'.
Another level is 'Death' from a Finnish map maker. This is his firts level here so give it a try. You can find it from 'Maps'.
Alejandro moved once again. Now you can find him from here. Lets hope it works this time.
What else? Well Borg Nukem has over 1000 downloads which is a great thing today. So in case you still haven't downloaded this piece of borg then go ahead and do it now.
TC Reviews coming: Duke's vacation (crap), Zerohour (classic) & Duke Carribean (commercial - No I'm not going to release it here so you'll just have to find it from a shop). Soon.
Did you forgot 'Roch 7'?
June 21, 2002: Roch 7 & Blackened
This day is totally good for those who like city levels. First of all 'Roch 7' is finally here. After a long wait Pascal has finally finished this 8th piece of art from him.
Alejandro just released his city level which is also an excellent level. It's called 'Blackened'.
Both levels scored well and can be found from 'Hot Maps'.
I really would like to write more but I don't want to.
June 16, 2002: News & one level
Aaaargh! My Internet Explorer started acting strange last friday. Every page that I tried to open said 'Sivua ei voi näyttää' ('page cannot be viewed' etc.). I don't think that the connection is the problem - I'm still able to read mail and play CS - IE is just fucked. I'm still able to view .html files with IE as long as they are on my computer- not on the internet. So today I installed Netscape Navigator. It sucks when compared to IE but that's all there is right now. I really do hope that I can solve this problem somehow.
While waiting for the final versions of Roch7 and Alejandro's new city level you can spend your time playing a level from Sangluss. It's called 'Supa'. It's a beginner quality level which can be found from 'Maps' section. Try it.
Still if I have forgotten to reply to your mails or something else then remind me.
June 12, 2002: Hot Map & news
Weeeee - Roch 7 is finally coming - very soon.
Alejandro has updated his AMC site with a forum. So go ahead and register and post some messages. Alejandro has also a big collection of good single-player levels at his sites. Some of them are not available here so go ahead and check AMC for stuff.
'Die Scraper' is in fact a level that was released two years ago. It was taken from Majestic 12 TC. That TC never got out (like many others too - you lazy fucks) but this level did. So I'm sure that you haven't tried this level before. Now I offer you a unique chance to download & play this level. It's of course in 'Hot Maps' section.
Another level for today is 'The Forts' from Danny Smith. It's a dukematch level - not so good. Check 'DM Maps'.
Poll updated. Last question was 'what movie are you mostly waiting for'. Here are the results: Matrix 2 (91), LOTR 2 (72), Star Wars 2 (26), Spider-Man (18 - how could you do that to greatest hero of our time? Well he broke almost every possibly record so go and do something nice to yourself). New question is about MSDN levels. VOTE!
Also in case you stole a rabbit from world's best Dance-music artist Sash! then go ahead right now and return it to him! And also help us (Sash! & fans) to make this rabbit the most famous rabbit in the world. Rabbit's name is KNOPF. Spread this picture to your friends email boxes: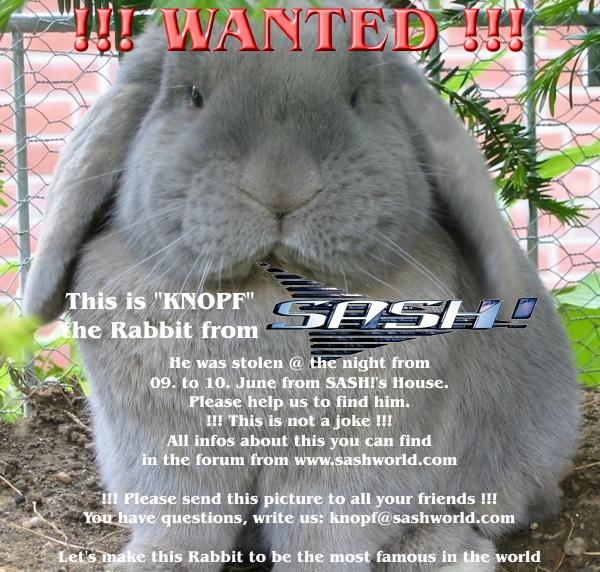 June 8, 2002: Great Levels
First week is finally over. Two more to go. Then I'll have some vacation. Anyways I have some good stuff for you.
Two Hot Maps: 'IMF Base Vengeance' comes from Chris Coleman (who also did this).
'Toxi City' comes from Maarten Oostrum. It's a big city level with lots of great stuff. Both levels are in 'Hot Maps' section. Don't miss them.
Alejandro's Mapping Center link changed. He moved here. Roch 7 is coming.
I should have added Chris Coleman's new level here and a tc review but I'm so pissed off now that I barely have any strenght left to write this. It's my summerjob. We don't do any work at all - we just stand on the road for eight hours in the sun. Just think about it - stand eight hours in bright sunlight. So the level and TC review will come later.
But I have one new map for you + updated version of Uboot. Check 'DM Maps' to read the review of 'Starfire' and then download it as well as new Uboot version.
For your enjoyment I removed Nuclear Winter download. So go and find it from a shop (if you're extremely lucky) - or then not. Read the review and waste your time on some else TC like 'Borg Nukem' or 'LR & WB'. Njah - seriously I (well not me) removed it because of legal reasons. But believe me you didn't lose much.
Originally thanks to Dominique Steyvers for Nuclear Winter (I forgot to mention it during last update).
"15 March 2002
AI Index MDE 23/003/2002 - News Service Nr. 48

Saudi Arabia : Investigation into tragic death of 14 school girls must be transparent and public.

Amnesty International is gravely concerned at reports that 14 girls have lost their lives and dozens of others were injured following a fire at their school in Mecca on 11 March 2002 after the religious police (Mutawa'een) prevented them from escaping from the fire because they were not wearing headscarves and their male relatives were not there to receive them.

The religious police are also reported to have prevented rescuers from entering the school because they were males and therefore not permitted to mix with females."

Have I said that religions cause lots of nasty things?