Spring 2007:
May 31, 2007: Quest for Hussein!
I actually wrote a review for this one years ago but never posted it. Anywayz, after watching the Anaheim - Ottawa game (it's 7 am now) I decided to give this particular Quest a new try since it got some new attention at AMC. So, check my review of Quest for Hussein and download the add-on, which, by the way, is actually a standalone game!
May 15, 2007: Industrial Devolution!
Industrial Devolution by Thedutchjelle is out and reviewed!
CBP7 added to Hot Maps. Also, thanks Quakis for reviewing it.
Don't forget to check Duke4Ever.net for some brand new reviews.
May 6, 2007: Community Build Project 7!
Update (7th of May): A new mirror added for those who don't use Fileplanet or can't get the file from AMC. Thanks Duke4Ever.
The seventh CBP is out! I'm a bit too lazy to comment/review now but here are two links if you wish to get the level right now. A review will follow later: Download, Download (Filplanet), Download (Duke4Ever).
Comments here.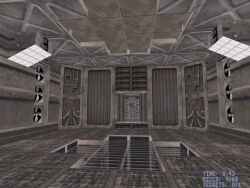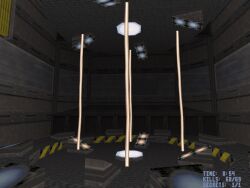 April 21, 2007: The site turns 8!
Another MSDN year is behind and as of now, we're 8 years old. I have been playing Duke for more than ten years. Check the old "6 Duke years" article for more info on the past. The article is old and full of bad English, but a new one will be written - two years from now when MSDN turns 10! Hopefully by that time MSDN can finally switch its name to MSDNF (yeah, right).
Anywayz - I reviewed some hot maps:
-Deep Sea Rising
-Vault of Death
-Optical Demounter
And a joke mod by Geoffrey ("Fakir") and James Stanfield, the gayest mod ever, HardG.
April 4, 2007: Murder: The EDF Conspiracy!
I always seem to be late with these "classic" TCs but here's one - Murder: The EDF Conspiracy. Thanks Telee for pointing it out.
March 28, 2007: Single01!
We're heading toward the 21st day of April, which marks our amazing anniversary. So - don't forget!
Butz - here's a new single-player map, Single01, which scored a whopping 30 points and has the honor of being the lowest scoring single-player map!
I also played Ghost Recon: Advanced Warfighter last week and wrote a review. Check our GRAW review here.
"Out of the Grave" continues with a space map that should have been reviewed/released at MSDN years ago. "V5" is the name of this classic and it scored 93. Check Hot Maps.