Spring 05:
Yesterday was the start for a bunch of new releases (Airport West) and here's another one: WGCity. Gee, who's the dude behind a fan-favorite WGRealms, is back with a huge and complex city map. Check Hot Maps for WGCity which scored 98.
Check yesterday's update in case you forgot!
May 30, 2005: Airport West!
Let's start with "Airport West" today! A level that has been under construction (on/off) ever since -99 is now finally out. The level scored 85 fairly and made it to Hot Maps. Read the review to learn!
There's a bunch of new maps on the way such as the latest gimmicks from William Gee and Sang. Keep your eyes open and Duke pumping!
I visited the capital of Finland last weekend and took some pictures. I'll post some of them soon just so that you could find out a little about my country!
Also if you want to know why modern France sucks so bad check my blog: http://m-sandt.blogspot.com
It's getting hotter and hotter each day and sitting in front of this tube gets even more sweaty. But that only means that you and I have a lot more free time in our hands. No rest for the wicked. I'm expecting the summer of 2005 to come with a bunch of quality releases and some sources actually indicate that this is going to happen.
Sorry for not updating for two weeks. No excuses - time just flew. Anyways here I bring you the latest from the author of "War Pigs" - check Igor's "Helltown" for some city/park action (a hot map with 88 points). Don't forget to check Igor's Dukemaps.net site.
More stuff coming - keep your eye on the site (or I'll rip it out)!
Well I'm off to visit some relatives for the next five days so here's something to play with: War Pigs (a hot map well worth your time).
May 1, 2005: KaiseR Land 02!
As reported yesterday - KaiseR's new map "Kaiser Land 02" is out and ready to enter your hard-drives. Check the review here and download the level. In case you missed the first one just check the anniversary update (21st of April).
Don't forget yesterday's update - the Labor Day update. "Confession" is well worth your time.
May Day, Labor Day, a stupid excuse to get drunk - call it whatever you want. It's here - well officially it's always the first day of May (that's tomorrow) but this is always the first day of beer parties & such. In Finland it's just another alcohol-filled weekend where lifeless beings fill their empty hearts with whatever alcohol they can find. Me? I'll stay right here at home maybe playing Enemy Territory or reading the last two issues of Dark Horse's Akira which I just got (now I got all six of them!) Anyways I made a visit to the Duke graveyard a few days ago and dug up something neat. "Confession" By Tim Conneen is indeed a worthy Hot Map with a score of 93. It's full of neat tricks and great gameplay. Just read the review before you play anything to avoid getting frustrated with the level.
As for other news - Kaiser Land 02 is on its way (check the first part here or just check the last update on this site). The release is not far away since the level is almost done so keep your eyes on this space for more updates.
And those interested in crime check my Blog since I made some research and came up with homicide statistics for some countries.
April 21, 2005: The Sixth!
The one's who have been here for a little longer know the meaning of this day. It's more important than any national holiday. It's the Anniversary of MSDN. Six years ago was the site first uploaded online and it was then just as crappy as it is today. Back then Duke was a bit more popular than today but the number of quality releases was way smaller. I also predicted the death of Duke3D a few years back which never happened - so much for my psychic gifts. In fact - the popularity might have even risen a bit thanks to Jonof & all. So as I move on you will move on with me and damned may be those who dare to leave this sinking boat.
Here are some maps of which one has been lying on my hd for a few generations (HMWCYD3): KaiseR Land 01 is a brand new Hot Map which scored 93 and is surely worth your meaningless time.
How Many Ways Can You Die 3 is Devastator's experimental Dukematch map with some neat tricks. Check it out.
Anevrisme DM-Pack is a pack of four Dukematch maps of varying quality and locations. Check it out too - both DM maps are available in DM Maps section.
That's it for now.
So thanks for the trip and I hope to see you next year!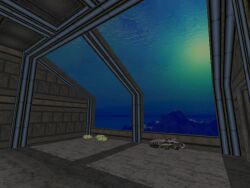 April 18, 2005: Dark Place 5!
Taivo's fifth "Dark Place" map is out and reviewed. Check the review here and download the map! The level scored 95 so it's surely worth your precious time.
April 17, 2005: Previews!
Since I've got nothing else to update about I'll post two preview screenshots of my upcoming map which is inspired by the contest started by Quakis a few months back. The contest is dead but the map is on the way: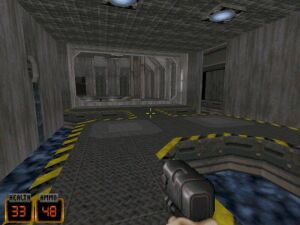 There have been some updates at PMC lately - so check them out. Also don't forget to check my blog: http://m-sandt.blogspot.com
Fakir3D website has also been updated with some neat screenshots.
Planetduke also started to host a brand new site dedicated to the High Resolution Pack project. Check the site for more information.
Check this article for some info about Prey (remember?)
Here - a new (I think) French Duke3D site. They seem to have my Duke Tournament reviewed too:)
I'll try to have a few Dukematch levels for the next update!
Maarten hits our Top-5 list with his latest level - "Another Big Base Attacked". ABBA scored 98 and can be downloaded from 'Hot Maps'. The review should make every "undecided" to vote for Maarten!
Good night.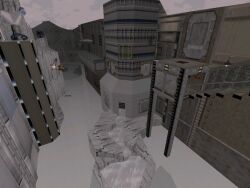 April 2, 2005: SW Source & Jonof interview!
Yesterday marked the second anniversary of Duke's Source Code release. 3DRealms celebrated the day by releasing Shadow Warrior's source code. The code is available at 3DRealms and is released under the GPL license. You can download the source for free but the game itself is not free (you have to have it or you have to buy it).
It didn't take long. Jonof's Shadow Warrior winport is already out. The port adds OpenGL support and should make all compatibility problems go away. I immediately installed the game and the port and tested it. It works great but crashes back to windows when saving. Hopefully this issue will be solved for the next version. Click the link above to download the port and have fun.
PMC (PolarisMapCentral) posted a fine interview of the man behind the Jonof Port - Jonathon Fowler. The Community mascot "Sang the Conqueror" hits Jonathon with some nasty questions about his private life and gaming. Check the interview here.
I'm bloody, sweaty, tired and weak after fighting with a few friends of mine at a local gymnasium just an hour ago. This is my life - an endless battle against the rest of the world. I have to be prepared - and my online life is no different. Only a few weeks ago after I had dropped Maarten off the top-5 list I received a death threat saying: "Son of a bitch - Ur dead!" A task force was immediately sent to his house and a few days ago Maarten announced that he will retire from The Community. Toxi City, Alien Planet X64-2
New maps are on the way so just be patient. I haven't been on my PC for four days so sorry for not updating - not that there's anything to update about.
Fakir3D is back! All you suckers who thought that the mod was dead were plain wrong (and for that matter - will always be). The site is ubercool with all kinds of inspirational crap and suberp design. Zekit!
Left link menu has been updated a bit and I added some lines to Map Reviews section to explain a bit about it (such as why it's still "up" - it hasn't been updated for years).
Check yesterday's update for "Filler"
March 21, 2005: "Filler"!
MRCK's "Filler" couldn't have a better name. Just when we thought that the month will pass without anything new since Annoying 2 MRCK comes with a brand new level to fill the need we all Dukers share. Check "Hot Maps" for "Filler" which scored 92. This is a must have for every city/Roch fan out there!
Don't forget to check the latest Jonof and Dukester X in case you're interested in playing Duke3D online.
And in case you'd like to reach me via MSN my Id is simply mikko.sandt@satabaana.net
One month to another anniversary :D
March 9, 2005: "Annoying 2" & Previews!
"Annoying 2" by Numan got released yesterday. Numan improved his skills majorly since his first map - "Annoying" which was released last summer. The level scored 81 and both the review & download link can be accessed via "Maps" section.
A preview of "DinoHunt" open project has been added to "Upcoming Maps" section. Check it out.
March 6, 2005: New Projects Added!
"Upcoming Maps" section has been given a major update with previews for three new TCs added. Also some of the old statuses have been updated. More stuff will be added shortly. Check "Upcoming Maps" section for more info on Duke3D projects.