Autumn 2001:
No there are no maps this time. So all I can give you today is some news - well mapping news. Some good maps are on their way.
Kevin Cools (Kef) is working hard on his Borg Nukem TC. This is looking very good and Kevin has just released some new, nice looking, shots from it. It shouldn't take anymore long before it gets released.
Kevin is also working on a new single-player usermap which is looking good too and should be out very soon.
Merlijn Van Oostrum and Maarten Van Oostrum are both working on new maps. Merlijn is working on a sequel for Red2. Maarten is on a desert-level. Below are some shots from Maarten's map.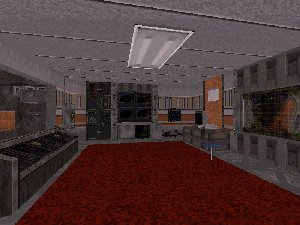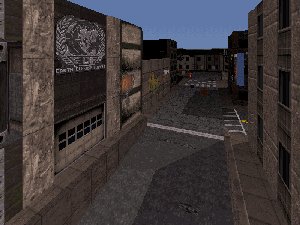 November 14, 2001: Adg03! and 17 years
Wow! Today I turn 17. Long time I have walked on this Earth. Five out of 17 I have played Duke. So Duke means a lot to me.
It's crazy - last year (2000) there was a lot talk about Duke Nukem's future. Many of you believed that Duke dies and it will not have much new maps. But these last months I have released tons of new GREAT maps from fresh builders. And MSDN has about 80 visitors a day. So don't talk about Duke's death. Some old guys might go away but new fresh talents appear all the time. MSDN still keeps pumping. This year has been a very good Duke Nukem 3D year. Thanks to you.
So about new releases. 'Adg03' is actually right now available. It is a really good level. Download also 'Adg01' and 'Adg02' (both can be found from 'Hot Maps'). Adg03 can be found of course from 'Hot Maps' with high scores.
November 9, 2001: The Launch!
A map definitely but not a 'Hot Map'. This time the new map goes to 'Maps' section. It's called 'The Launch' and I recommend it to everyone who likes Duke. Definitely worth to look at. Very fun and nice structure. Just some problems with the design. Go for it.
So I guess the Fileplanet thing works now because I haven't heard any complains this time:) I'm going to get a faster internet connection - the cable itself so it means I can enjoy more playing Counter-Strike.
Have fun and stuff. As usually if I have forgotten something that I have promised or there are bugs on this site then let me know.
And by the way - First snow came on tuesday:)
November 4, 2001: Underwater Sub Base!
All right I won't say anything this time. A map? For you? Yes indeed. This time fourth or fifth 007 TC map from Jason Bredhauer (and should be the last old one from that TC). Get 'Underwater Sub Base' from 'Hot Maps'.
Because of your emails about Fileplanet I mailed Gamespy and they gave me a simple answer how to upload files so you can get them instantly. Thanks to Gamespy and me you are now able to download the newest map and future maps instantly. Email if you notice any problems.
Oh great. Have I done something wrong? Once again MSDN has a new great map for you. Remember 'Adg01'? Sure you do - it was reviewed here about two weeks ago. Already now it has a sequel. 'Adg02' is a lot better than 01. Get this one and wait for other good maps. Address is 'Hot Maps'.
It seems like it takes few days before files get to Fileplanet's public servers. First they are only available for Personal download and after a few days wait you are able to download them from Public servers.
I might know how to fix this. I emailed Gamespy about this and I got an answer to these problems. I'll try to work with it asap.
Lots of links in 'Duke Nukem' section has been fixed. Also some buttons above has been removed (broken). Thanks to 'Lufo' (at least that was your name in email:).
This can't happen!!! Once again MSDN has a new map for you. 'APF' is the name of this good level which (once again) can be found from 'Hot Maps' section. Don't miss this piece. It's a great level to spend your time with.
So lets talk about Fileplanet. Many of you seem to think that you have to pay to get these levels. I recommended Fileplanet's personal server to you but forget it - it costs. Many of you (including me) are younger than 20 which means you probably live with your parents and still are students so you don't have a credit card (or money).
But you don't have to pay anything when you download. When you click for example that 'Red2' level link on the picture above it takes you to Fileplanet. To download scroll down the site (don't touch those personal server things) to see Public servers. Public servers are free so download via them. Public servers are below personal servers. I hope that helps.
All right kill me already. I'm still pumping out good maps for your pleasure. This time we have a map that I received about two weeks ago and now when its time has come it's here finally. 'adg01' is the name of the map and review and download can be found from - 'Hot Maps' section - as usually.
And more maps will come. I just finished 'Red Alert 2' (I bought it a year ago but didn't really enjoyed playing it then with my slow old pc) - destroying Pentagon in games is very cool! I also hi-jacked World Trade Center. This must be Bin Laden's favorite game:) Damn Bin Laden - I have to wait more months to get my hands on Rogue Spear mission-pack (as we all know some war/terrorist games are all delayed because of 11th of September).
Anyway next week is all holiday (some autumn vacation). I'll be out of town until wednesday.
October 14, 2001: Fusion!
This is getting boring but once again I have a new map for you.
Dani 'The DM-Master' J Swanson has once again released a new piece of dukematch history. 'Fusion' is the name of this great map and available in 'DM maps' section. Download yours today.
Dungeon Master updated his site and added Midi Pack 2 there too. Check some cool stuff at his site. Click here.
More maps will come. Kef has also updated his WSYC a couple of times so read more reviews there.
Last week we had a map by Maarten Van Oostrum. This week we have a map by his brother Merlijn Van Oostrum. Red2 is a very good and fun map for single-player. Get Red2 from 'Hot Maps'.
Awright! Lets do this one more time. Because of some reason Fileplanet is a bit stupid so the new Roch6 version download link didn't worked. This time I renamed the file so now download the latest bugfree Roch6 version from here!
Only one exam left - perhaps I might get some sleep now (I have slept about 5 hours every day during this week).
Still MSDN keeps pumping good maps. Newest is from Maarten Van Oostrum and it is a good dukematch map in 'DM Maps' section. Definitely worth to look at. More reviews will come soon.
Pascal found some bad bug from Roch6 after he had released it. New bugfree version is available here (the old Roch6 link has been replaced) so get it if you want your Roch serie to be clean:) Download!
I know you all hate Fileplanet nowadays but just register to that personal server or whatever it is to get everything working as they should.
Now I got to get back to school. I'm writing this on my foodbreak and I never eat schoolfood:)
September 30, 2001: Roch6!
After six months of waiting Pascal has finally finished Roch6. Of course it is available here - with a review. Map is the best Roch map yet and available in 'Hot Maps' section. Get yours.
Matt finally updated DNFInc. Check it out!
Counter-Strike v1.3 is out. I spent five hours downloading it and the new HL version (I downloaded wrong version first) - damn modem.
Hi. Sorry for the lack of the updates but I was waiting for the final version of Roch6. It's not out yet so later. New link added. Check: http://pub92.ezboard.com/bquake71689 - Duke Land.
Juha Laaksonen has updated his page. There are few new level reviews there and news. Check it out: www.dukesivut.cjb.net.
New maps are coming. I already have Maarten Van Oostrum's and Merlijn Van Oostrum's newest maps at my pc and soon they will be released here to. Also one of Jason Bredhauer's old maps will be released.
Sorry about the thing I said in last update - the religion thing. I actually got a few emails about it. But I have my reasons: First of all I was so damn angry about this terrorist act - and it was done because of religion. And I just don't understand why someone do believe in some thing that nobody has ever seen or heard - there's no evidence of any kind about god or jesus. So sorry if I hurted your mind or something but that wasn't personal.
This 'America Under Attack' is on the news, internet, tv, school, friends, everywhere - we had a quiet moment at school (and all around) on friday. I really do hope that USA and others will hunt down and wipe out the whole terrorist civilization. My commiserations go out to the families of all the victims out there (that was partly taken from PD because I didn't knew how to write it - I still have to learn more english).
More info: CNN:
September 12, 2001: Even More Hot Maps
Yesterday was quite critical day for the world - especially for the USA. Some religious faggot-terrorists attacked against the world's best country USA. They ruined World Trade Centers, Pentagon and couple of planes. Lots of people died. And all that because some crazy terrorists think they can get to paradise and have lots of women after they die. So don't you, whoever you are, believe in jesus or heaven - it causes only problems - lots of people die all the time because some people do believe in something that doesn't exist.
Not really MSDN stuff but fucking important anyway - will remain in history.
Once again we have a map by Jason Bredhauer. Download 'Russian Observatory Snow Base' from 'Hot Maps' and have fun.
September 7, 2001: More Hot Maps
Jason Bredhauer, who made some great levels in the good old Duke days, is going to get few of his old maps released here. We'll start with 'Russian Missile Base' which can be found from 'Hot Maps' section. I'm sure many of you has this but get it anyway because it is very enjoyable.
Finally JS has something to report. His site is updated with new forums (damn I have to register again - and then forget my passwords - again) and information about new 'Community Build Project' - a new museum map - and yes of course I made a sector for it - take a look at the shots on JS Build site.
Duke Army TC has been released. This is multiplayer based TC at least for now. I will download it when and if the single-player version comes out.
Miracles do happen - Bug Team's Duke site has been updated - with new map, episode and TC review (SST). Check it out.
September 3, 2001: Again new Hot Map
Daniel Aashage has now released his second map. It is called 'Near Life Experience' and it is a damn good level. It has tons of new textures from 'Half-Life', nice puzzles, great gameplay feel, etc. This piece of art can be found from 'Hot Maps' section - with high scores.
Nothing else really. I'm going to review a few old maps (which are great anyway) for your pleasure in future so you have something to play with. Also be sure to check latest hot levels: The Aztec Ruins & Fury 161.