11th of August 2002
Sweet Half-Life (HL mod)
Saying 'Sweet Half-Life' is a mod for HL ain't enough. 'SHL' is better than 'Opposing Force' or 'Blueshift' (two official HL add-ons). SHL is even better than original Half-Life.
Place is the same good old Black-Mesa research facility. You're not the same Gordon Freeman from original HL or Barney from Blueshift. You're a warehouse manager and your way is different than Gordon's.
SHL's story has more depth than any mod has ever had before (apart from great 'Timeline 2 - Iced Earth'). It has those normal Xen creatures and also a completely new race of aliens - those small white human-alike aliens which you have seen in many scifi movies. Government troops are there too with a new unit - a minigun guy.
You are also given some new weapons like uzi & minigun. They both are great looking and feeling and very powerful. You'll also find this alien gun which shoots some white foam.
The most important in SHL is its level design & amazing scripted sequences. Levels are full of variety and excellent puzzles (and original puzzles). There are many scripted sequences and I won't tell them here so I won't spoil the surprise (including mysterious Briefcase man & some surrealistic stuff). One of the neatest thing in this mod is the use of classical music at times. It sounds great during the levels and plays important part in the end.
SHL is about 1/3 of the original HL's lenght. If you have no HL then buy it so you can play Sweet HL. There are no words to describe how excellent this mod is. It just might be the best thing I have ever played.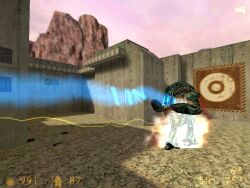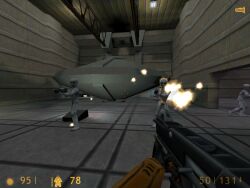 Website: http://www2d.biglobe.ne.jp/%7Eks_wca/shlhtm/shl_fm_e.htm
Download is 25Mb.
---