CRUCIAL CONFLICT EPISODE BY MAARTEN PINXTEN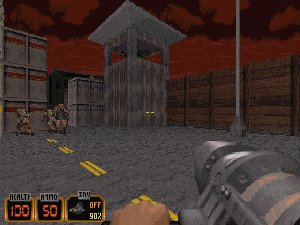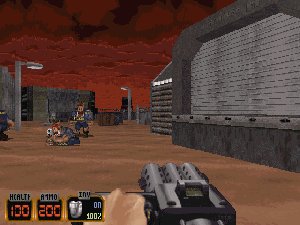 Some time ago Maarten Pinxten decided to end his 'Crucial Conflict' storyline and released 'MPCC3'. Now he has joined all those great Crucial Conflict maps into one nice episode. This episode has three amazingly detailed, ideafull etc levels.
Levels' architecture is really creamy. 'MPCC1' might look a little bit emptier than other two levels but it still is very higly detailed. These levels might not be as detailed as Bob's maps (Bobsp1-2) but they are bigger and they have more adventure feeling. Maarten isn't copying from anybody. He is using his own 'pure' building style which he already used in his previous maps (MPWeapon). Expect to see every kinds of areas from small computer rooms to huge arenas with awesome architecture.
Theme is all the time the same. You start from a base and you'll stay in a base. First level is Half-Life style base with some ideas from it. Second level is a base which is located in the middle of the ocean (that's why it's called waterworld). Third level uses same base theme but with very different architecture and it has some alien hive themes too.
These maps has lots of exploration. You need to complete different missions (like turning satelite disc into a different position or to find a computer chip) on each level before you may proceed. So it's not all like find- button-door-opens style. Only thing which I missed was the lack of secret places.
Gameplay is average. Levels has quite less weapons and ammos but less monsters too. Since Bob Averill used only few monsters in his 'Bobsp2' all the other builders has started to add less enemies to their maps (for example Chris Allcock) which I don't like. There should be lots of monsters and ammos so action and gameplay feeling would be high. Anyway there's enough exploration and interesting plots to enjoy gameplay.
Creativity is first class. Maps are full of never before seen ideas. Some of them are taken from Half-Life but Maarten turned it into Duke's engine really well. Like I said before design is completely Maarten's own style and that gives more points for creativity. Anyway some of the ideas are so excellent that you just must see them (see 'MPCC3's' spaceship travel).
Lighting and shading is quite normal. Maarten is on a normal level in shadowing. Shadows and lighting looks realistic but I was hoping more wilder shadowing (dark black, wide shadows) like 'Stranger' does in his maps. Maarten's kind of shadowing hasn't got much feeling even it looks realistic but that's only my opinion:)
These maps are also totally bugfrees. There are no too difficult puzzles or misaligned textures. Everything is perfectly fixed and tested. Sounds are well used and gives a good feeling.
Overall all the levels are excellent and perfect work. Only thing which was bad was the number of monsters which unfortunately doesn't give you any action feeling. And I was hoping to see Maarten's contest winner 'MPResort' in the episode (for example as a bonus level or something). Maps are joined in a .GRP file with some changed cons and episode is easy to use. Get this very important project right now to see what Duke is these days.
Lastability: Three excellent levels in one episode. But where's 'MPResort'?:
WWW: http://www.2maarten.com
Version: 1.4, 1.5
Author: Maarten Pinxten
Size: 537Kb
Score: 94