30th of January 2005
The Spiegul Contest | Single | Author: The Three Stooges | Download 548kb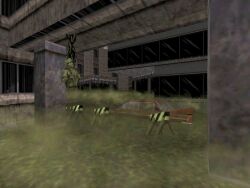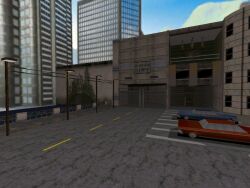 Started back in autumn -03 (WOW!) and finished late last summer the so called "Spiegul Contest" has finally found its way to a website. The idea was to continue the street area that Merlijn had previously built for a usermap and turn it into a level. Many active builders participated but only three (MRCK, Taivo Maripuu & Devastator) finished what they started. Last autumn AMC held a vote and both MRCK & Taivo's contributions received eight points while Devastator's got two (although it has been widely suspected that MRCK rigged the vote). Now it's your chance to decide who wins.
So - Three dayblue city levels with Merlijn's entrance (the street area in the beginning). (the skybox was ripped from Fakir's FBSP003 - I took the liberty to include it with the pack since it fits well - you don't have to use it if you don't like it)
MRCK's map is standard Roch-inspired MRCK - except with a bright sky this time. It's clearly the most difficult of the pack with tons of Pig Cop Tanks and Battelelords. Protector Drones are met in tight corridors and Sentry Drones infest the streets. Design is good with both nice details and good spritework. The level might end up being a bit frustrating but luckily there's enough health to keep you alive - just try to conserve your ammo because you won't be getting anything extra.
Taivo's Spiegul is the best of the pack. It has excellent texturing and quite clean level design with good looking open areas compared to more cramped both indoor & outdoor areas in MRCK's level. The meteorite -effect also guarantees that this level comes with a stronger 'Conceptual Grandness' (an excellent term used by UnrealSp.org which I hope to be able to use more often) factor than MRCK's part (which lacks memorable moments). Taivo's map is also a bit tough but it relies more on Commanders than on Pig Cop Tanks.
Devastator's contribution is the most unique of the pack and takes the smallest use of Merlijn's entrance. It has many interesting themes such as the slime covered streets and the feel of an ongoing alien invasion. However texturing is mostly poor with some badly aligned textures and very poor trimwork. The street area is also a bit too empty. The level also has a bit too many eggs but this shouldn't be surprise if you have played Devastator's previous levels. Gameplay is mostly good with a few tough fights and a nice underwater area. The slimy street areas look very good and original and the puzzles are ok.
So - MSDN has given the Golden trophy to Taivo for his well-designed level with a bunch of memorable moments. Devastator's contribution is unique but poorly textured. MRCK's is well designed but the least memorable of the pack. As for the 2nd & 3rd places - I report, You decide.
Rating: The pack as a whole gets well over 90