Fall 2011:
October 31, 2011: Fear itself!
Seeing how it's Halloween, it's fitting to put out another "Out of the Grave" map, this time Aliens by Peter Kucera.
Frank Black & the cursed pumpkin: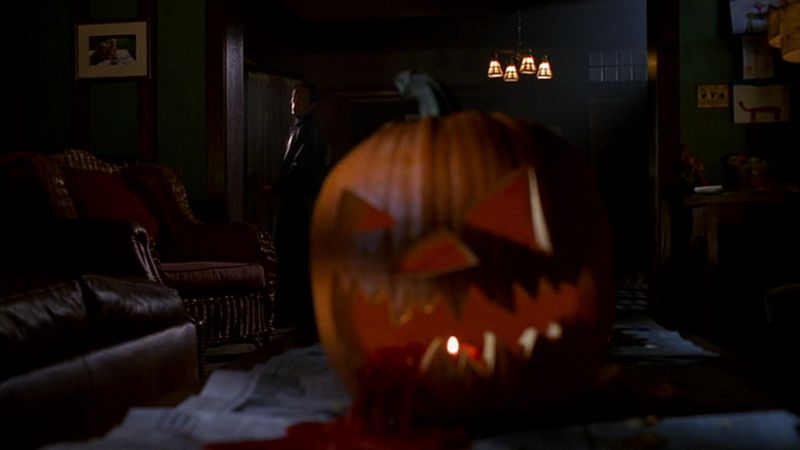 I'm very pumped up for tomorrow (the 27th) as that's when Battlefield 3 hits the store shelves here in Finland! Since you guys left Duke3D, you've left me with no choice but to keep posting reviews of other games. Here's Rage.
I'll try to get some old & forgotten levels reviewed for Halloween unless you can come up with something better.
We've had only five new releases since Duke Nukem Forever was released back in June. That's not bad, but it's not good either. And with big, multi-year projects having finally made their way to the public (Imagination World 2, WGRealms 2, Imperium), it does appear that things are going to slow down.
One of those multi-year projects is the AMC TC, which has finally entered the beta phase and we're expecting to see it get released later this year. All the maps are done and it's playable from start to finish.
Also, If you scroll down all the way to last November's update, you see two screenshots. This "secret" project is also nearing the finish line; at the moment only one and a half small maps need to be done.
So, good things are on the way - Duke3D is going out with a bang, not a whimper!
September 27, 2011: CrackDown!
Hopefully the release of CrackDown, a minimod, is a sign that you guys are finally waking up from coma or something.
September 11, 2011: New poll!
Time for a new poll. Let us know how do you feel about Duke Nukem Forever.
The previous poll question was "Your weapon of choice" and here's how you responded:
Out of 194 voters, 73% voted for Shotgun, 18% voted for Chaingun and 9% felt that neither of these two is their favorite weapon.
Mass Effect reviewed. Btw, for the first time in many years, my Steam library is empty of games I haven't played!
September 3, 2011: Nuke City!
Another summer is behind, and this one left us with Duke Nukem Forever and several new Duke3D releases (RCPD, The Wall, Quake TC demo and Imperium). So, feel free to go through them in case you missed any.
Anyways, here's Nuke City from 1996. If you guys kept making new maps, I wouldn't have to review old ones. (Not that it's a bad thing to give these old maps some exposure.)
And here's a review of Operation Flashpoint: Dragon Rising.