Fall 2010:
Running a bit dry here, not good especially on Halloween, but I did manage to play through Halo, so here's a new game review. I've got a couple of reviewable things on my "not priority" list so I'll get to them sooner or later.
Anyways, it's Halloween and since I'm running out of good Frank Black Halloween pics here's Halloween Buffy with some of her words of wisdom: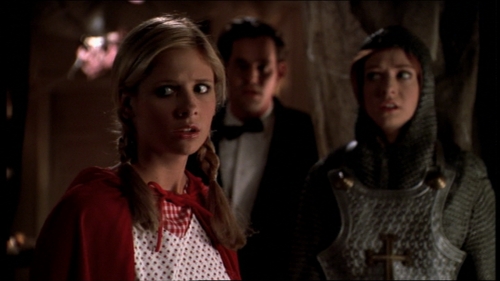 "I was just thinking about the life of a pumpkin. Grow up in the sun, happily entwined with others. Then someone comes along, cuts you open and rips your guts out."
October 20, 2010: Imagination World 2!
James Stanfield has been working on some impressive stuff for the past decade or so and while most of the stuff that's gotten out so far is "just" a bunch of usermaps, the time for his Magnum Opuses is finally here. Imagination World 2 was released about a week ago and now it's been reviewed here. Take a look and start hoping that the AMC TC is soon around the corner.
October 17, 2010: Crimson Moon!
I'm back from a week-long trip to Austria (Graz more specifically) and during that time the Community has pumped out two noteworthy releases. First, the latest CBP, Suburban Hive 2: Crimson Moon is out and reviewed. Second, James Stanfield's massive and impressive Imagination World 2 is out. This standalone mod is available at Moddb and will be reviewed here during next week.
October 11, 2010: Suburbs!
Two hot maps should be out in a matter of days but until then, have fun with Suburbs, an Out of the Grave level picked from a list provided by LAW.
October 1, 2010: Little update!
The AvP 2 review has been updated with a new download link (a mirror to another site) and a tiny info bit.
September 25, 2010: Duke 6:8!
We're picking up some speed again with Forge's Duke 6:8 (95 points) being the third new map this month. Hopefully we keep picking up that speed!
September 20, 2010: Action Time On 7!
It's been a while since something got posted to Maps section which merely tells us that the maps we get these days are all good. But anyways, here's Action Time On 7, Mickey C's debut.
September 13, 2010: News, game reviews!
Well, as you should know by now, Duke Nukem Forever is back in business and for the first time since 2001 it actually feels close. My earlier promise from nine years back, that I'd start reviewing DNF maps is of course contingent on Gearbox releasing the tools. The unfortunate trend these days seems to be making concessions to handicapped console gamers and providing extra material exclusively via DLC.
In other news, my Fate Reversal Half-Life mod has been updated to version 1.1. Fixes/changes include background music, autosaves and some vital bug fixes. Check it out!
Max Payne & Max Payne 2 reviewed. I also uploaded a new version of Duke 3:16.
September 1, 2010: Anarxiticalcity!
Almost two months went by without any new Hot Maps but that slump is now over. Alexander Bak from Russia brought the cure with his Anarxiticalcity, a hot city map that scored a respectable 93 points.