December 10, 2014: JMW-SP2!
JMW released his first single-player map back in November and now he's got another one for you. JMW-SP2 is a space map, the fifth this year actually, which is a pretty good achievement considering none were released in all of last year.
December 8, 2014: Hogwash!
Sorry for the slight delay in updates; let's try to get this thing going on again for the sake of Christmas. Here's Hogwash: Siege on Triton 3, and underwater Hottie.
And don't forget to check out Dookie Nukem, no doubt the shittiest mod ever made.
November 23, 2014: Red 2 & BioShock!
Merlijn v. Oostrum's classic Red series has gotten its second map update. Check Red 2: Alien Occupation for an improved version of Red 2, the first Hot Map in the Red series.
Also, BioShock Infinite reviewed. One of the best games ever!
November 6, 2014: JMW-SP1!
New maps are dropping like snow flakes in my city at the moment. The latest addition is a temple-themed map by JMW: Go check out JMW-SP1.
October 31, 2014: Helloween!
Since the return of MSDN with a groundbreaking new design and updated Hot Map links on October 20, five new maps have been released. Ignoring the fact that these had been in development for several weeks/months prior to October 20, MSDN takes full credit for this burst of creativity which was preceded by months of stagnation. This is merely a testament to the fact that Duke3D mapping has become synonymous with MSDN.
To celebrate this Halloween, I have two new space maps for you; of the five new maps a mind-numbing three are space themed, which is an interesting statistical anomaly considering the usual scarcity of space-themed usermaps. In any case, here's Duke Nukem For3ver Part 2 by StarCraftZerg and here's Moonlight from Artem Nevinchany. (For the other maps, check Return to Taygeta and Urea 51.)
And with all the ghosts flying around, remember kids that true courage lies in the overcoming of fear, not in its absence: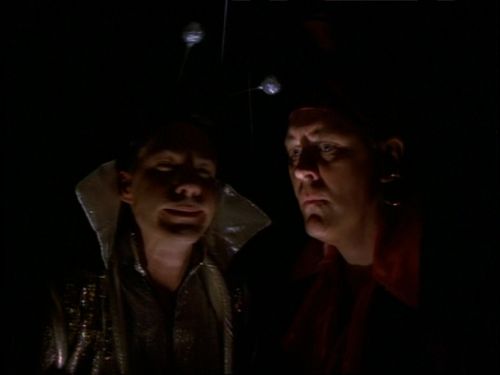 October 27, 2014: Sevenpolis!
MRCK is yet again back with yet another city map. Check out Siebenpolis for some vertical, 7-paletted action.
October 20, 2014: Updates!
I have finally fixed all the broken Fileplanet links but there are still some issues with case sensitivity. So, if you're trying to click a link that points to abc.zip but the actual filename is ABC.zip, then you're going to get a "not found" error. So, keep that in mind for now. Quick edit: When I said "all" I meant "Hot Maps". I'll get around to fixing the rest later.
I also changed the layout a bit. It was just a quick one-hour tinkering with the css file so some things are bound to look a bit off, especially if your monitor resolution is low.
Last but not least, here's a new map, Cold in November by Sanek.
September 8, 2014: Halls of Doom!
A short Doom influenced episode by Zykov Eddy reviewed here.
September 5, 2014: Insurance Overload!
Conrad Coldwood who released a few good maps nearly a decade ago has resurfaced with a new map. Check out Insurance Overload.
August 25, 2014: Flood Area!
Here's a nice little city map to wrap up the summer: Flood Area. Also, Betrayer (the game) has been reviewed.
August 9, 2014: Duke Craft!
All you Minecraft lovers out there should enjoy this one: Duke Craft has Duke killing aliens in a map that looks as if it came straight from Minecraft.
July 25, 2014: Slum Noir!
Here's Slum Noir, an unorthodox city map by Oasiz.
Seven months into the year and we have exactly seven new releases meaning a pitiful map-per-month pace. Things have slowed down after last August's spike. In any case, there's still plenty of time for things to pick up again.
June 28, 2014: Duke Hard review!
And, finally, here's a review of Duke Hard (see the previous update). (Note that I'm labeling this CBP as a TC so it can be found here rather than the Hot Maps section where all the other CBPs are.)
June 23, 2014: Duke Hard!
The long-awaited Duke Hard CBP episode has finally been released. The CBP consists of 17 maps (including one by me), all taking place in one building. We've had a relatively dry first half of 2014 in terms of new releases: Hopefully this mega-CBP provides a boost to mapping activity.
In any case, I'm unable to play the episode at this very moment so for now all I can give you is a bunch of links and a kickass poster:
-ModDB Duke Hard page
-Quick download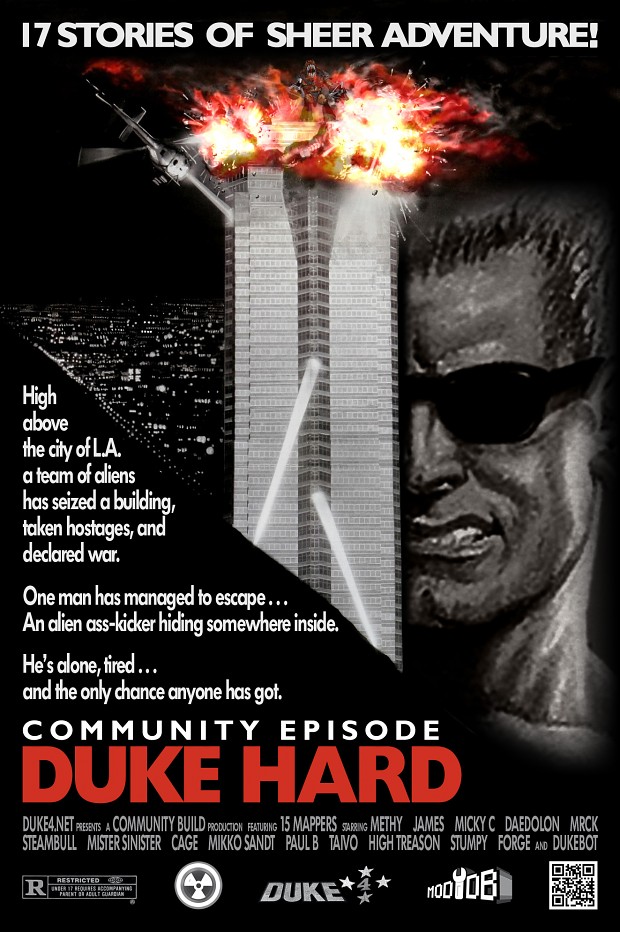 I'll try to come up with a review this weekend.
---
Visitors: 2194 + 225 000 +
&copy Mikko Sandt 1999-2014
Quality stuff since -99