December 29, 2017: Between Christmas and New Year!
Sorry for the lack of a proper Christmas update but I was out of town and just couldn't find the opportunity to both play the game and update the site. But anyway, the 20-Sector Community Build Project has finally, after seven years, been released. Sanek also released a Christmas map for his Candy Mania mod; I added a small mention (it's a short map) on the mod's review page. Finally, after many years I managed to play Anachronox for the first time and just had to write a review of the game.
December 3, 2017: Haunted!
Haunted Nukem Episode 2 has finally been reviewed!
November 17, 2017: Candy Mania!
Sanek's put out something a little bit different this time (well, this isn't the only time he has come up with experimental stuff). Check out Candy Mania for some rainbow colors and gameplay!
October 31, 2017: Ghoulish Nukem!
Well it's fright night again. Enjoy your 2017 Halloween with the epic Shaky Grounds Part 2: Tragedy. Haunted Nukem also has a sequel, but I noticed the release just a little bit too late to actually start writing a review right now. For now, download the mod here and enjoy the screenshots below (the first episode is included in the new release, btw):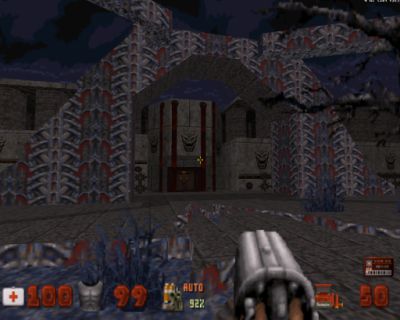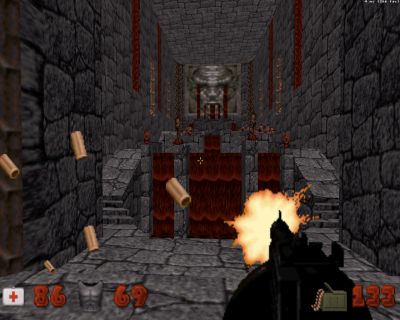 Have a very ghoulish Halloween!
September 27, 2017: Naked Dash!
Mister Sinister has come up with another cool, innovative map. Check out Naked Dash if you believe you've got what it takes to survive a maze filled with various Build tricks.
September 10, 2017: Back to Hollywood Holocaust!
Hollywood Holocaust has been "rethinked" in Polymer; check out the review here.
August 22, 2017: Trequonia is out!
Zaxtor's (the author of Oblivion) Trequonia Total Conversion is finally out. The TC has nearly 20 new maps, and if Oblivion is anything to go by, finishing this thing is going to take quite a while, so a review will follow later. For now, you can download the mod here (warning: the filesize is pretty massive at 2.7GB!). Leave comments here.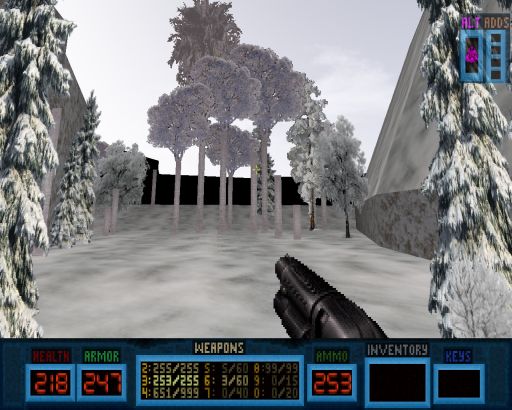 July 15, 2017: Spacetronic & new Duke3D website!
Maarten van Oostrum released a space epic earlier today. It's called Spacetronic and it scored 97 points so check it out!
Paul Bolduc, the author of several True-Room-Over-Room-heavy maps, recently started a new Duke3D mapping related website, http://www.dukemaps.net. MSDN welcomes this addition to our shrinking family of exclusively Duke3D-focused websites, so check out the site now.
Also, Duke4.net recently conducted a chat with Randy Pitchford, the CEO of Gearbox. The chat touches on some Duke3D related topics as well so check it out here.
July 2, 2017: Hostile Terrain!
It's been a quiet year so far as far as Duke3D mapping is concerned, but here's finally something new: Hostile Terrain is a new Hot Map from Peter Williams, whose Duke3D mapping career spans nearly two decades now.
Also check out my review of Deus Ex: Mankind Divided.
It's time to resurrect the lesser-known Maps section with Gotcha!, a remake of a Doom 2 map. The author is Jolteon 3D, who has released some worthy maps recently that I'll try to have reviewed here sooner rather than later.
As of today, MSDN is 18 years old. This time I don't have any brand new releases for you, merely updates to previous releases. First of all, Duke Forces has been updated with a new episode (along with a bunch of new features). In addition, Zykov Eddy's The Dream 2 has gotten a Polymer-powered update, and Loke finally put some enemies in his movie-based map The Thing. I also recently finished Chaser, a first-person shooter from 2003, which has been reviewed here. Enjoy!
Several authors from the past seem to have resurfaced recently. The latest of these is Alejandro Glavic, the legendary webmaster of the AMC. It had been over ten year since he had released something for Duke3D, but a few days ago he put out a new map, Adg 06, a city map that takes place in Buenos Aires. Check the review & download here.
---
Visitors: 2194 + 225 000 +
&copy Mikko Sandt 1999-2014
Quality stuff since -99