September 8, 2014: Halls of Doom!
A short Doom influenced episode by Zykov Eddy reviewed here.
September 5, 2014: Insurance Overload!
Conrad Coldwood who released a few good maps nearly a decade ago has resurfaced with a new map. Check out Insurance Overload.
August 25, 2014: Flood Area!
Here's a nice little city map to wrap up the summer: Flood Area. Also, Betrayer (the game) has been reviewed.
August 9, 2014: Duke Craft!
All you Minecraft lovers out there should enjoy this one: Duke Craft has Duke killing aliens in a map that looks as if it came straight from Minecraft.
July 25, 2014: Slum Noir!
Here's Slum Noir, an unorthodox city map by Oasiz.
Seven months into the year and we have exactly seven new releases meaning a pitiful map-per-month pace. Things have slowed down after last August's spike. In any case, there's still plenty of time for things to pick up again.
June 28, 2014: Duke Hard review!
And, finally, here's a review of Duke Hard (see the previous update). (Note that I'm labeling this CBP as a TC so it can be found here rather than the Hot Maps section where all the other CBPs are.)
June 23, 2014: Duke Hard!
The long-awaited Duke Hard CBP episode has finally been released. The CBP consists of 17 maps (including one by me), all taking place in one building. We've had a relatively dry first half of 2014 in terms of new releases: Hopefully this mega-CBP provides a boost to mapping activity.
In any case, I'm unable to play the episode at this very moment so for now all I can give you is a bunch of links and a kickass poster:
-ModDB Duke Hard page
-Quick download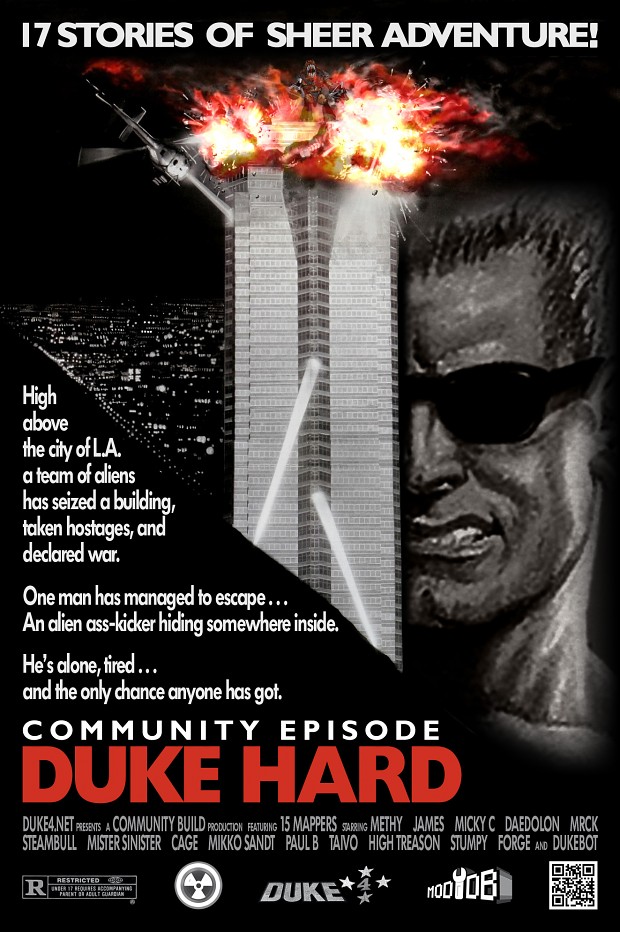 I'll try to come up with a review this weekend.
May 24, 2014: Apprehension Arizona!
A new map popped up on Steam yesterday: Apprehension Arizona is by Loke, who's got several other items available in the Hot Maps section.
May 5, 2014: Delta Station Down!
It took over two months but we finally have a new map. Check Delta Station Down for some Martian mayhem.
As of today, MSDN is fifteen years old. Considering the fact that I was a few months below that age when the site was founded, the site has now outlived my existence prior to MSDN.
The release date of the CBP I mentioned in the previous update is getting closer but before we get there, here are a couple of things to keep you busy. First, check out Bowels of Hell Space Station, a space map that recently appeared on Steam. Then, for some Indiana Jones nostalgia, Indy Tour is an episode you can afford to miss but if you're a fan of the series, you should probably check it out. Btw, these releases are both from 1996.
Not much going on in the world of Duke3D it seems, apart from a pretty neat CBP that's coming in the upcoming months. Meanwhile, check MSDN's South Park: The Stick of Truth review and here's a trailer for Zaxtor's Oblivion sequel, Trequonia:
February 26, 2014: Beach CBP!
The Community is back with another project, this time focusing on a beach theme. See Beach Community Build Project for some sunny action in the middle of a snowless winter.
February 14, 2014: Nitro!
High Treason's series of riverside maps is into its third part, Nitroglycerin.
February 1, 2014: Duke 2070!
It took a month for the year's first Hot Map to emerge but it was worth it. See Perro Seco's Duke 2070, a huge futuristic city map.
January 17, 2014: The past year!
A bit late with this but it's finally time to take a look at the year 2013 in terms of new releases, counting (for the sake of consistency & comparability) only those that were released here:
2004: 50 new releases
2005: 36 new releases
2006: 30 new releases
2007: 21 new releases
2008: 40 new releases
2009: 34 new releases
2010: 26 new releases
2011: 21 new releases
2012: 29 new releases
2013: 28 new releases
So we fell short of 2012 by one release. There was a considerable spike in late summer followed by a lull.
Despite this, the year 2013 was highly significant. First, Duke Nukem 3D was released on Steam as the Megaton Edition. Then our Duke Nukem Forever 2013 mod was released in late April, amassing more than 20 000 downloads in less than a year and being featured in PC gaming magazines. In late 2013 the Megaton Edition got Workshop support, meaning people could publish and play Duke3D usermaps via Steam. Taken together, this means that there were more people playing Duke3D in 2013 than in a very, very long time. Hopefully this newfound popularity materializes into a good year for Duke3D mapping. It is also possible that we're going to witness a segmentation of the mapping community along source port (EDuke32, Megaton) lines with mapping being increasingly devoted to the Megaton Edition while modding sticks with EDuke32.
Anyway, here's a review of the 2013 versions of Shadow Warrior & Rise of the Triad.
December 31, 2013: Duke Xmas 2014!
I'm in a bit of hurry but here's Duke Nukem Xmas 2014, a map you should give a try before you head out to celebrate the New Year. Enjoy the last map of 2013!
December 23, 2013: ACB Studios!
The Duke3D Megaton Edition recently got Workshop support, meaning you can now publish maps on Steam. The system is very convenient for gamers but if you're a mapper, there's a tiny bit of hassle to get your map published (there's a guide here) but it's probably good as a means to prevent the system from getting flooded with irrelevant maps. So far I've published some of my old maps (MSSP6, MSSP7 and MSSP8) through the system: the most recent ones are either incompatible or parts of larger wholes.
Hopefully this Workshop support attracts new mappers and reinvigorates the existing bunch. The first brand-new single-player map to make its debut on Steam is ACB Studios, reviewed here as of this moment. Go check it out as it's a hellofa debut.
Merry Christmas!
December 9, 2013: Hibernal Solstice!
MRCK has another brand new map for you, Hibernal Solstice.
December 3, 2013: DNF MotY(?)!
Please vote for our Duke Nukem Forever 2013 mod in ModDB's Mod of the Year contest. Simply click the image below and vote for the mod:
November 24, 2013: DNF 2013 DLC!
Our puny minions, DavoX & Micky C, were forced to work six months on a DLC/mission pack for our Duke Nukem Forever 2013 mod, the mod that rocked the world. It was worth it, and now you get to see why. Download the "DLC" here. You need the original mod to run it. The pack features three new maps, a new shotgun and a new soundtrack. Here are some screenshots: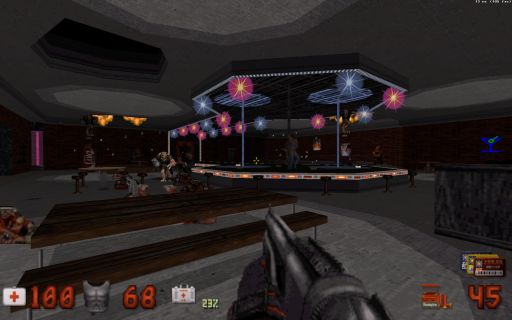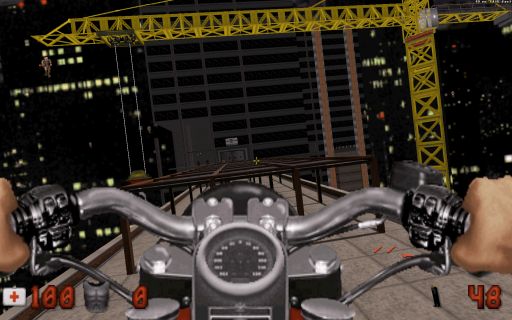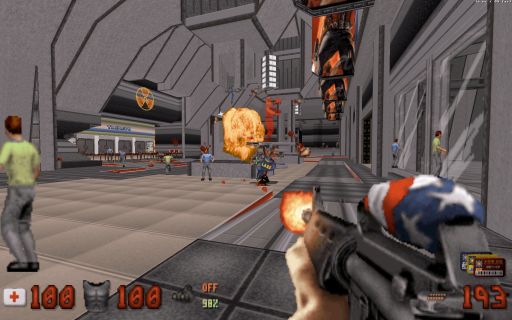 Also available on the ModDB page.
November 5, 2013: BobSP 4 review!
And here, finally, is the review of BobSP 4: Sub Species.
October 28, 2013: BobSP4!
I'm still recovering from a bit of low back pain, or "witch's arrow" (noidannuoli) as it is called in Finland, so I'm unable to sit in front of a computer, or anywhere for that matter, for longer than a few minutes, but I'm quickly uploading BobSP4 for you to play with. A review will follow later.
October 20, 2013: Red 1 - again!
In case you ever wondered why the first part of the groundbreaking Red series sucked, you need not do so anymore. Red 1 has been re-imagined as Red 1: Poisoned Lands. Check it out!
October 1, 2013: Castle Quest!
Here's a 7-map medieval map pack, Castle Quest.
September 14, 2013: Project Con!
So far this month is looking good as well; maybe our brilliant Duke Nukem Forever mod reinvigorated the community. Anyway, here's today's special, Project Con, a demo of an upcoming horror-themed mod.
September 10, 2013: The Edge!
This month has started off pretty well with a few new releases with Zykov Eddy's The Edge being the first one to be reviewed. Enjoy!
August 31, 2013: Duke Nukem 64 Mod!
It's time to wrap up a month that rewarded us with so many treats and there's no better way to end it than with a full-scale mod, Duke Nukem 64, an impressive recreation of Nintendo 64's Duke Nukem game.
August 26, 2013: Devastation Level 01!
August has now officially been declared as the month of Duke3D mapping. Devastation Level 01 is now the sixth map to be released & reviewed on MSDN this month. Don't miss yesterday's release!
August 25, 2013: Entrapped!
And the maps just keep on coming, here's Paul Bolduc's Entrapped, a TROR-heavy map.
August 18, 2013: Slaughterfest!
The late-summer usermap spike still seems to have some life left in it. Here's a fun and fast-paced map by Mister Sinister, Slaughterfest.
August 12, 2013: Bridge Between Two Islands!
The summer is drawing to a close so you might finally find the time to play Duke3D again. In fact, considering this month's spike in published maps, it seems that many of you have been mapping all summer. In any case, enjoy Sanek's Bridge Between Two Islands.
August 9, 2013: Anarchy City X!
The Anarchy City series is back with a rebellious "X"th installment. In Bummed Out! Anarchy City X you won't be fighting aliens with your usual tools but instead find yourself trying to avoid them as much as you can.
August 2, 2013: Border Town!
Here's a good city map for those of you who'd rather spend your summer playing Duke maps than on the beach: Border Town.
July 8, 2013: Mill Town Rampage!
You may remember David B. from some pretty good city maps but this time he's come up with something totally different. Check out Mill Town Rampage for a set of two excellent maps. This one is right up there with the best of the best.
And don't forget to check yesterday's update as well, in case you missed it.
July 6, 2013: Hellish Doom, Spearhead & Breakthrough!
I'm a few months late with this but here's Hellish Doom. And I'm a decade late with this but here's a review for the two Medal of Honor: Allied Assault mission packs.
I'm back and here's Sanek's LORCH 2, a sunny Roch-style city map!
Won't be able to update for a while and I failed to write a review for the latest usermap release but here's Locked Up 1 anyway, uploaded for your gaming pleasure. It will be reviewed later.
June 1, 2013: Prequel to Time!
Here's another "out of the grave" TC review, Prequel to Time. Found this one about a year ago while going through Duke3D TC Site.
Oh, and our Duke Nukem Forever mod just hit 10 000 downloads. Enjoy your summer!
Found a pretty good TC/episode that's been out for seventeen years without anyone (well, almost) noticing. Go check out MatH Pak, a 4-map episode from a Slovenian author.
May 10, 2013: Two new maps!
The site turned 14 three weeks ago, something I forgot to mention in the middle of all the DNF fuss. So, here are two new hot maps: Quantum Physics & The Thing. Remember to honor this site as you enjoy these maps.
Also, you may have noticed that I changed the poll. The last one asked for your opinion about Duke Nukem Forever, the 2011 game. Out of the laziness I "let" that poll stay there up until last week, right after the release of our mod, which is when I noticed that DNF (the game) suddenly started getting tons of 5/5 votes. This was because some of you thought the poll was about our brilliant Duke Nukem Forever 2013 mod. Before this misunderstanding the distribution of your votes was (out of 400 votes cast) roughly Gaussian, with the exception that the worst rating (1/5) had the most "mass". So, it seems that many of you guys really hated the 2011 game. Anyway, the current poll is about our MOD so go ahead and give it the 5/5 it deserves! (The IPs of those giving it less than that will be stored for vengeful future use.)
Also, thanks to Come Get Some! for also loving our mod.
Our Duke Nukem Forever laid destruction on the gaming world, even attracting the attention of several popular gaming websites (big thanks for that!). On ModDB it was ranked first (out of nearly 20 000 mods) for several days and has amassed thousands of downloads. I am confident that our mod is in fact the greatest work of art ever conceived by terrestrial beings. We've been having talks with NASA about possibly including a copy of the mod on some future spacecraft, like the Golden Record on Voyager. This would ensure the mod survives even after the Sun has burned up all its fuel.
Anyway, MRCK (see one of his recent maps here) was kind enough to write us a review so check it out here.
If you've only recently discovered the Duke3D modding scene, check out (at least) Metropolitan Mayhem (direct download link here), the AMC TC, WGRealms 2 and Imperium. The Hot Maps section is filled with awesome usermaps and there are Total Conversions over at TC Reviews. (Many of those reviews were written when I was still a kid so they contain tons of bad English.) If a download link is broken, see the Dukeworld archive.
April 30, 2013: The Real Duke Nukem Forever!
Here's finally Duke Nukem Forever, a mod Gambini & I have been working on for about six months now: DOWNLOAD. Gambini was the creative force behind this project while I contributed one full map, helped with one of Gambini's maps and provided most of the code. This is not a full-length game but a kickass Duke3D mod with some of the best maps ever, tons of quality art à la Gambini and tons new enemies & effects.
Several screenshots, nothing too revealing: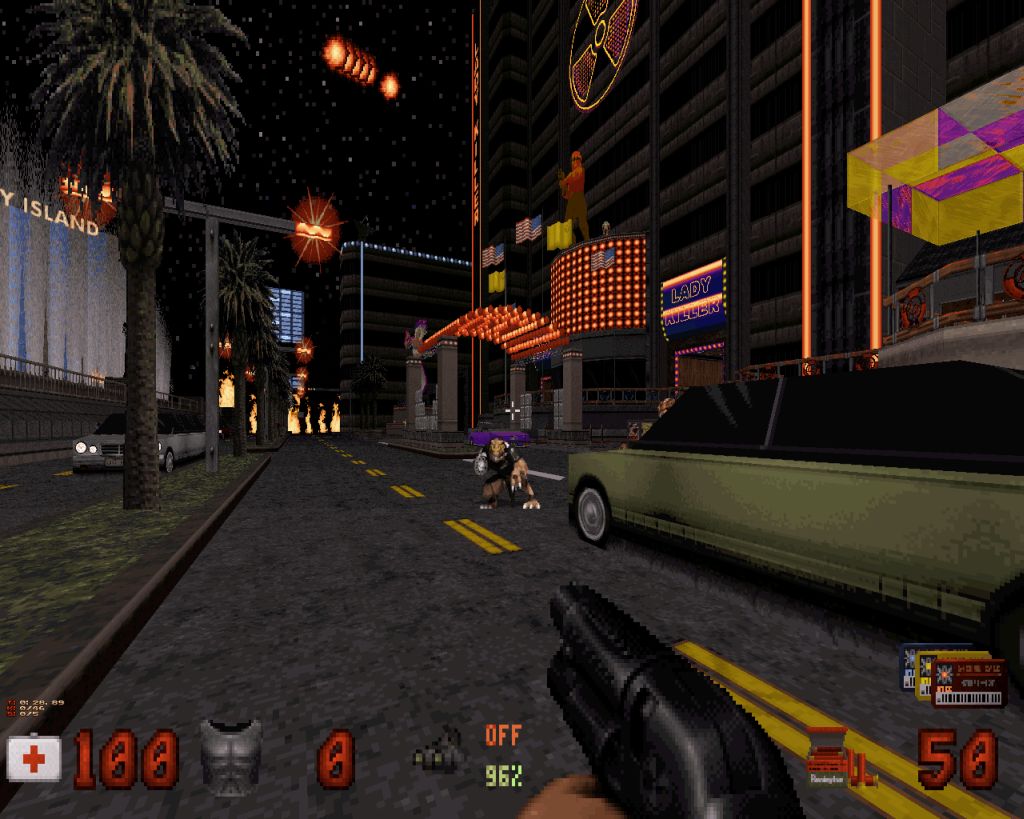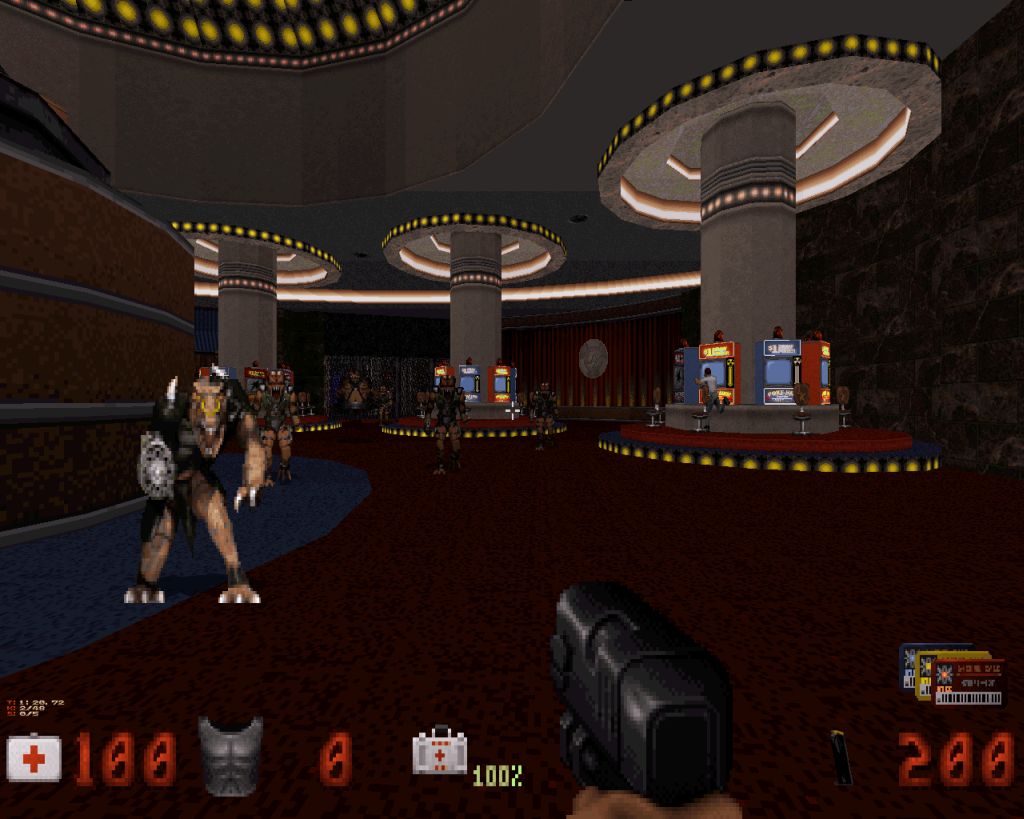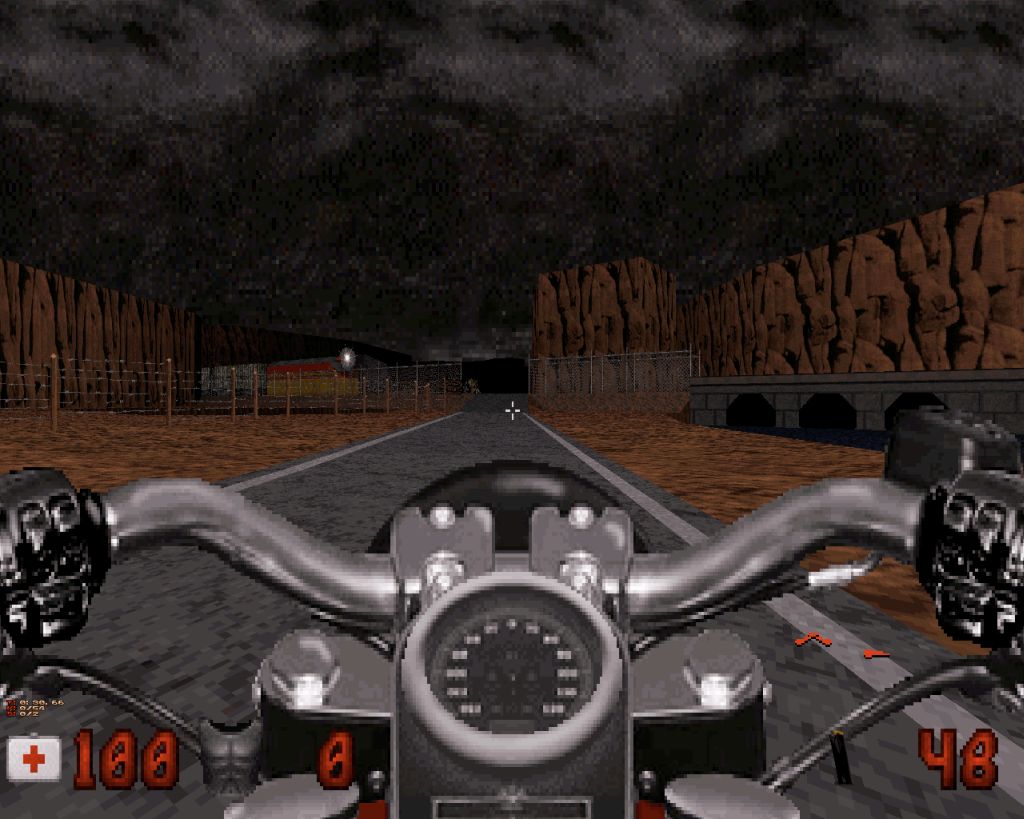 See our ModDB page as well.
Happy Walpurgis day/May Day! Time to get drunk.
April 17, 2013: Direct System Episode (demo)!
While you wait for the big one, here's something to play with, a demo of Pappi_man's upcoming Direct System Episode.
April 1, 2013: Duke Nukem Forever!
After seventeen years Duke Nukem Forever, or, rather, the game it was meant to be, is finally coming:
Soon!
Duke Nukem 3D has finally been released on Steam. The Steam version is called Duke Nukem 3D: Megaton Edition, and it includes not just the four-episode version of Duke Nukem 3D (Atomic Edition) but also the three mission packs (Duke It Out In DC, Duke Caribbean and Nuclear Winter) and a DOSBox version of Duke3D. In addition, there are a few (too few in fact) Steam achievements and a multiplayer mode has been promised. All this costs around 10€.
Of course, this version (based on Jonof's port) is inferior to EDuke32 but it's still nice to have Duke3D, especially with all the mission packs, on Steam. Moreover, if you now own Duke3D on Steam you're still able to play user-made maps and mods via EDuke32. All you need is the Duke3D.grp file that's located in your Steam\steamapps\common\Duke Nukem 3D\gameroot\classic folder. Copy it to an empty folder, get EDuke32 and put that in the same folder. Then simply launch EDuke32 or a map/mod-specific launcher. (You can also play usermaps via the Megaton Edition, rather than EDuke32, by adding "-map mapname.map" to the game's launch properties, assuming the map is in the same folder as the exe.) Note that EDuke32 also comes with Mapster32, the most advanced Duke3D mapping editor. (See also The Commander's Steam guide about this.)
The FAQ has been updated with this new information.
---
Visitors: 2194 + 225 000 +
&copy Mikko Sandt 1999-2012