March 2, 2017: The 4 Elements!
Check out The 4 Elements, a map based on one of my favorite movies of all time, The Fifth Element!
February 17, 2017: World War 2 G.I.!
World War 2 G.I. is a commercial Build-engine Total Conversion from 1999. It was recently released on Steam. Here's a review of it. Btw, if you intend to get the game, check the game's Steam Hub for a guide on how to play the game in EDuke32.
I'm almost two decades late with this thing, but here's finally a review of Secrets of the Acropolis.
January 21, 2017: Small update!
A slightly improved version of Duke Royale has been uploaded so check it out.
January 3, 2017: New Year, new map!
Well, the last few months of 2016 didn't see much mapping activity, but don't forget that there's always something brewing beneath the surface. Here's a look at the year 2016 in terms of new map/mod releases that were reviewed on this website:
2004: 50 new releases
2005: 36 new releases
2006: 30 new releases
2007: 21 new releases
2008: 40 new releases
2009: 34 new releases
2010: 26 new releases
2011: 21 new releases
2012: 29 new releases
2013: 28 new releases
2014: 22 new releases
2015: 19 new releases
2016: 24 new releases
So overall the year 2016 was in fact slightly better than the preceding two years, but there was a drop in terms of quality; not many big mods were released this year. The sole great exception is of course the 20th Anniversary World Tour, the new commercial episode. Unfortunately World Tour seems to have been too divisive to have caused any significant increase in the popularity of Duke3D. With respect to usermaps, a few old faces resurfaced after a decade-long absence while a few new mappers pushed out their very first maps, so by no means was this a terrible year.
Anyway, while I consider this a 2016 release, let's kick off 2017 with a new usermap. Here's Spacetrap.
December 16, 2016: Nuclear Showdown usermaps!
James Stanfield recently released a new version of his old Nuclear Showdown mod. This is the perfect excuse to check out two brand new Nuclear Showdown usermaps, Block Ignite and Lunar Burnout, by Shawneth.
November 11, 2016: Another comeback!
Thedutchjelle just released his first map in nearly a decade, so waste no time and check out Bad Case of Mondays.
October 31, 2016: Another Halloween!
A few releases have shown up lately, one of them fittingly a Halloween map, so check out Dracula's Castle and Winterfall.
And enjoy your Halloween playing a good scary game like Alien: Isolation or SOMA!
October 13, 2016: World Tour!
Well, we finally got a new official Duke3D episode. It's called Alien World Order and it's been reviewed here. (Sorry about the crappy image quality but my gaming monitor died a few days ago.)
September 17, 2016: Apocollapse!
Merlijn van Oostrum is kicking off a new map series, Shaky Grounds, with Apocollapse. This map scored 98 out of 100, so NOT playing it is like killing kittens or something.
September 9, 2016: Duke Royale & DNF2013!
Arzca returned to Duke3D mapping with a bang a few weeks ago. He's got another map ready for you, this time a remake of a map in the Plug 'n' Pray episode of the PlayStation Duke3D (Total Meltdown). Check out Duke Royale Remake and spot all the Quentin Tarantino references!
Also, I finally managed to put together a section for Duke Nukem Forever 2013, the mod I co-authored with Gambini a few years back. The page had been lying on my hd for a few years so it was about time to finish it and put it here.
September 2, 2016: Moontang!
The first map of an upcoming "Moontang" episode is here. Check out Brig It On by Captain Massive, who also released Hogwash a while back.
August 18, 2016: Feeling randy!
A bit of a quick update here, check out L.A. Terror by a new mapper!
July 31, 2016: New city maps!
Here's a kind of a blast from the past; Aaro "Arzca" Ruohonen (Dead Meat) is back with two relatively new maps, X3 Studios and Bank Roll 2000. This guy hasn't released anything in over a decade so it's about time we got to play something by him. Don't miss these classic-style city maps!
July 14, 2016: Hitting the archives!
Here's something a bit different; Rush 189, a very old version of Gambini's hyper-detailed Rush2K.
Also, Mirror's Edge: Catalyst and Doom (2016) reviewed.
June 23, 2016: I Am Root!
Here's The Root.
Enjoy your Midsummer!
Take a look at Sanek's latest map, LORCH 3, which was actually released in an unfinished state a few years back but is now officially done.
Also, Duke Hard has been given a minor update. Also, Final Fantasy XIII reviewed.
DeeperThought recently released his Star Wars-themed mod for Duke Nukem 3D called Duke Forces, borrowing assets from various Star Wars games. Anyway, it's been reviewed so check it out here.
April 28, 2016: Something different!
MetHunter released a map for Shadow Warrior a few days ago called Showdown in Suzhou where Lo Wang is on a mission from Brad Pitt. It's a good map taking place in a city that's been described as a "Chinese Venice", allowing the author to combine urban themes such as apartment buildings and restaurants with more natural environments, keeping things fresh as you make progress. It has a familiar mid-'90s open layout with many visitable locations - including a large but completely optional underwater section - and secrets. There's also a boat section where you get to mow down powerful enemies with satisfying ease. (Just don't make the same mistake I initially made in assuming you cannot control the boat; it doesn't seem to work if you're crouching.) Overall the map is pretty tough, especially if you haven't played Shadow Warrior in a while, but its many paths and secrets hold tons of goodies, making this one of those maps where exploration pays off. Anyway, not many of these are released these days so give this one a try. Download Showdown in Suzhou here.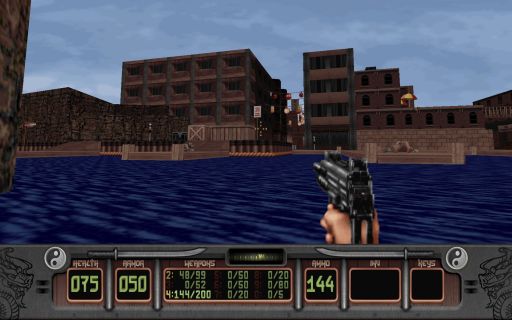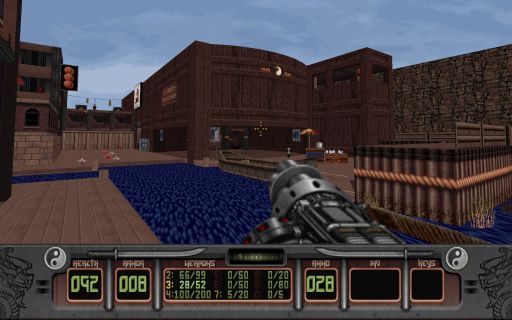 April 21, 2016: The 17th!
MSDN turns 17 today, so here are a few presents. First, a brand new map by Mister Sinister, Close Range, released today no doubt to commemorate the glorious birth of this website. Second, Graveyard, a four-map Polyer mod by Mark. This mod is all the way back from January 2015 but there was a bug in the first map that prevented me from progressing further, so I forgot all about the mod despite a patch that fixed the issue. Anyway, better late than never.
And here's something special; a top-down plan for what was supposed to be my very first Duke3D map, simply called "Roofs". I actually drew this plan in late 1997 before I had even obtained the Finnish Build guide so I had no idea how to even use the editor when this was drawn, but I was betting on getting my hands on the guide. Ultimately this didn't turn out to be my first map although I did later build a map based on this plan; I'll see if I can find it at some point. As you can see, the idea is pretty simple; four buildings with gameplay taking place mostly on top of them with two indoor sections accessible through vents.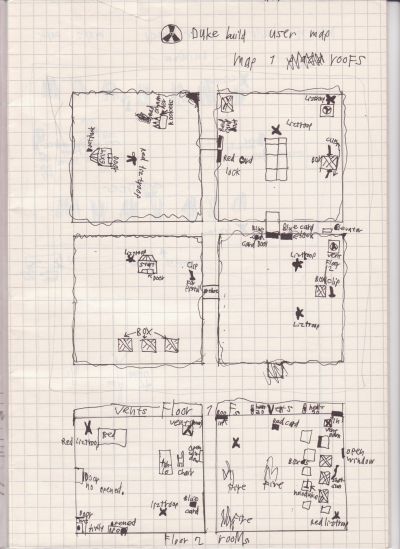 (click to enlarge)
April 3, 2016: Octo April!
More weirdness from Zykov Eddy, check out his Octo Desperado for a bit of early April fun.
You might also want to take a look at Baserape but only if your computer can manage it. Two frames per second (I wish this were an exaggeration) quite isn't anywhere near playable so this one's gonna have to wait as far as I'm concerned. Maybe one day...
This one is a bit late but here's a review of Sludge Plunge.
Sorry for the lack of updates; a few maps should have been reviewed but I've basically spent my free time on playing Waifu Returns and Rainbow Six Siege. Anyway, here's Sanek's DoomBox.
February 5, 2016: Blast from the past!
Remember an old map called The Monastery of Darkness? You just might, and here's a 20th anniversary update of that very map so check it out at Hot Maps.
Also check out Sludge Plunge by Mister Sinister. The map was released only some minutes before this update so I didn't have time to review it for today but I'll get around to doing that soon.
January 13, 2016: Unknown Planet reviewed!
Here's finally a review of The Unknown Planet.
January 1, 2016: Unknown Planet!
We're kicking off the new year with a Hot Map release, The Unknown Planet by the legendary author Maarten van Oostrum. No review yet though as I'm slightly busy, but I'll get one for you in a few days.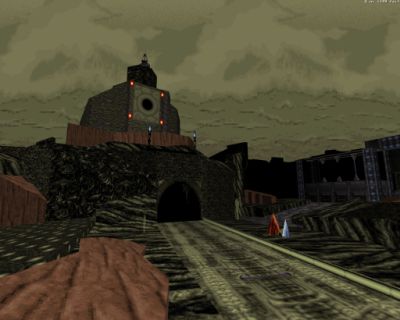 December 31, 2015: Wrapping up the year!
Here's Ghost Town Xmas, a fitting way to end the Holiday season 2015.
Time for our annual look at the number of new releases, measured in terms of new maps released on MSDN:
2004: 50 new releases
2005: 36 new releases
2006: 30 new releases
2007: 21 new releases
2008: 40 new releases
2009: 34 new releases
2010: 26 new releases
2011: 21 new releases
2012: 29 new releases
2013: 28 new releases
2014: 22 new releases
2015: 19 new releases
While a low number compared to the previous years, it includes quite a few multi-map releases such as The AMC TC: Episode 2, Anarchy Village, Electric Highways (the first EDuke32 mod to be released on Steam) and TamDuke. (Of course each of these counts as a single release for obvious statistical reasons.) I even released a small map myself, and there's a big map by me in the AMC TC 2. So, as a whole, the year has been quite fruitful. Happy New Year!
December 24, 2015: Ho ho ho!
Another Duke year is approaching its end but we've still got a week before we wrap things up so there's still a chance to end the year on a high note. Anyway, this being Christmas, here are some Hot Maps for you to play with: Pipe Dream (AMC TC 2), South of Heaven and Bite the Dust. Grab those in case you haven't already and enjoy your Christmas!
Just a little heads up that Decay has finally been released. This project has been under construction for a very long time. It's got a zombie theme so some of you might get a kick out of it. Note that Polymer is pretty much a necessity. I'll get around to playing it a little later; I tried out the first map and the framerate was somewhat acceptable after switching to a much lower resolution.
December 6, 2015: Tampere!
After ten years of development, TamDuke, a 10-map episode that takes place in a Finnish city, is finally out. Check out the MSDN review here.
Also, Zykov Eddy's Electric Highways has been released on Steam! This is the first EDuke32 game that's been released on Steam, and it's free. If you wish to support the authors, you may purchase the rather awesome soundtrack.
October 31, 2015: Hell night!
There wasn't much to report from the mapping front but a few days ago things started to look a lot better, right on time for Halloween. First we have Baptized in Lunar Dust, a space-themed map by Loke, and then we have something much more fitting for Halloween, a 5-map minimod called Haunted Nukem by Duke64Nukem. So, that's something for you to play with while trying to keep your mind off all the ghouls looking over your shoulder right now.
And if you want something really scary for this Halloween, Alien: Isolation is on a Steam sale right now. It's the best first-person game ever so check it out!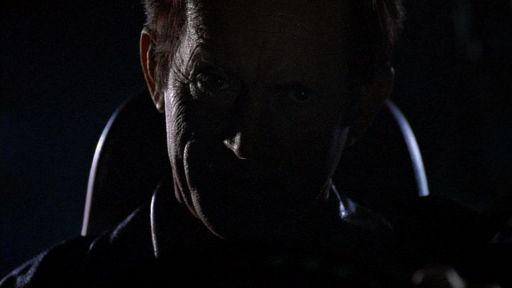 September 22, 2015: Electric Highways deux!
Noticed that my review of Electric Highways was missing a conclusion: I had simply forgotten to paste it. But it's fixed now.
September 19, 2015: Electric Highways!
Zykov Eddy's "interactive concept album", Electric Highways, has now been reviewed.
September 6, 2015: Flaming Shipwreck reviewed!
Finally managed to review The Flaming Shipwreck.
Also check out Zykov Eddy's Electric Highways, another experimental EDuke32 project. A review will follow a bit later.
August 24, 2015: Flaming Shipwreck!
A new map by Quakis, here's The Flaming Shipwreck. A review will follow a little bit later, as I'm currently stuck in the 5th dimension, trying to communicate with you in Morse code by manipulating an ordinary wristwatch. (I ran into Matthew McConaughey and he told me this was the only means of communication available in the 5th dimension.)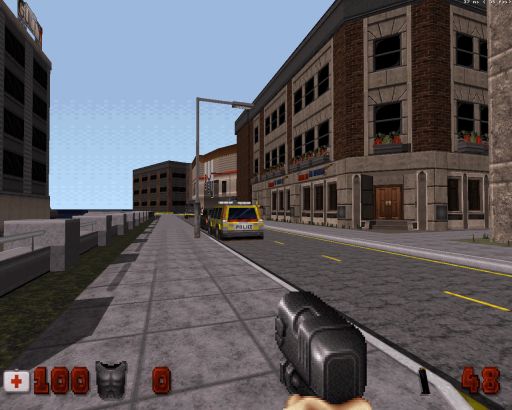 August 6, 2015: NAM & Blimp!
A couple of goodies for you, first a review of NAM and then Operation: Blimp which didn't quite make it to the Hot Maps section but is still worth checking out.
July 27, 2015: The End of the World!
Finally, The End of the World Part 1 reviewed.
I'm in a bit of a hurry so a review is gonna have to wait but here's a new one by MRCK: The End of the World Part 1.
Screenshot: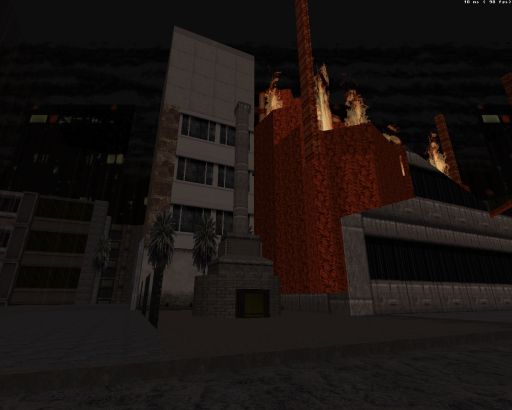 July 2, 2015: Duke's Day Off!
Check out Duke's Day Off, an action-packed city map from StarCraftZerg.
Also reviewed some Wolfenstein games (The New Order, The Old Blood and Wolfenstein 3D) here.
June 11, 2015: Anarchy Village!
Here's something to get you all geared up for the summer: Fernando Marquez finally released the final episode of his FMX series. Check out Anarchy Village.
May 28, 2015: The Rock & Alien - Isolation!
Here's a new map from Paul Bolduc: The Rock. The map is based on the 1996 film, one of the high points of '90s action (which says more about '90s action than it does about The Rock).
Also, Alien: Isolation reviewed. It's currently my favorite first-person shooter so don't miss it!
May 4, 2015: Death Drive!
Death Drive mini-episode reviewed here.
April 25, 2015: Block City!
Another quiet month on the Duke front. MSDN turned 16 on the 21st so it's up to me to save the day: here's Block City, a mini-map I built around Speedcity, a map I contributed to a CBP a few years back. The map took only a few hours to create but it should be fun to play through especially if you're a fan of the original city maps (who wouldn't be?).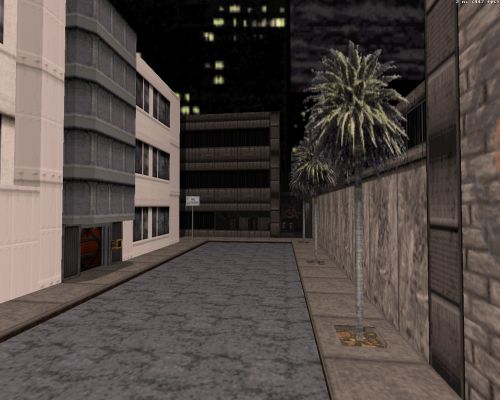 March 25, 2015: The AMC TC Episode 2!
The biggest release of the year no question (prove me wrong!), here's finally The AMC TC Episode 2, a massive Total Conversion with more than ten hours worth of content. This free game doesn't even require Duke3D to play so even your pitiful Duke3Dless neighbor can play it! I contributed one map so that alone should make the game worth checking out.
March 4, 2015: Eerie Estate!
It's been a slow year so far but here's Eerie Estate, a horror-themed map inspired by some Duke3D horror classics.
The AMC TC 2 is currently undergoing beta testing so you'll probably get to spend the upcoming spring playing it: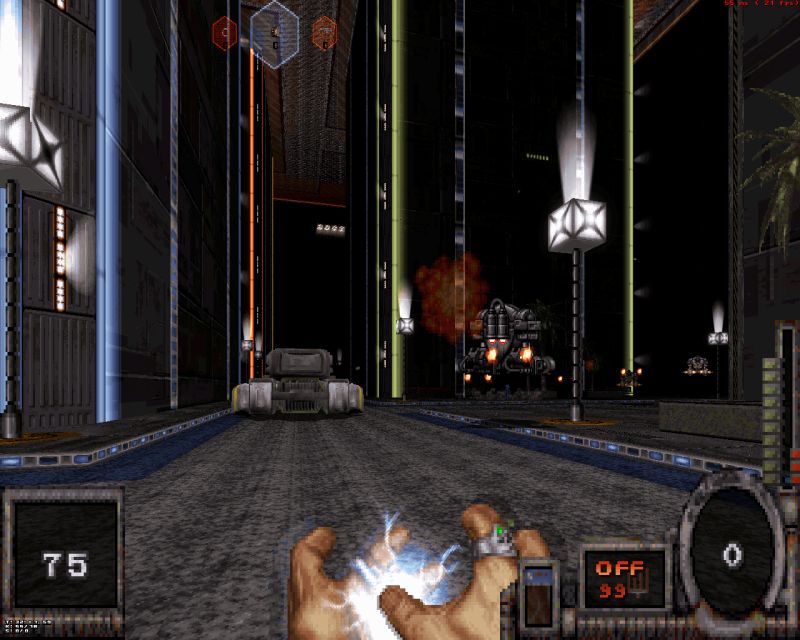 It's been more than a month since the site was last updated and that's partly my fault, partly the community's. First of all, there haven't been that many releases. Duke64Nukem released a mini-mod, DN64 Revisited, which has now been reviewed so check it out here. There's also a Polymer mod that I intend to take a look at, but that's about it. However, good things are on the way. The epic AMC TC is finally getting a sequel. We're looking forward to releasing the second episode (which is HUGE) in the upcoming weeks. This is definitely one of the best, if not the best, mods for this game ever so stay tuned: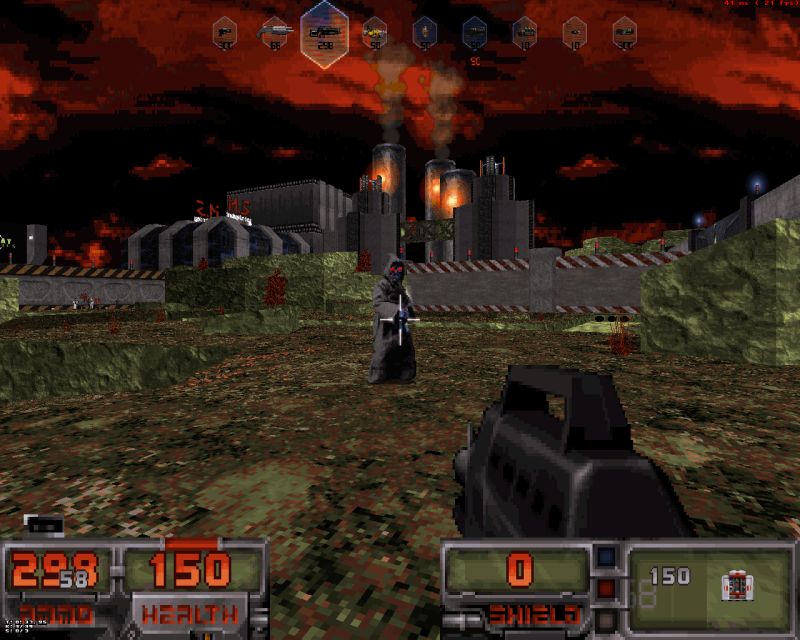 January 1, 2015: The New Year & Turok 2!
We'll end the year 2014 with Turok 2, a map from the same guy who built Duke64Holiday (see the Christmas update below).
It's time for our annual State of the Mapping Community review so here's how the year 2014, in terms of new releases, compares to the previous decade:
2004: 50 new releases
2005: 36 new releases
2006: 30 new releases
2007: 21 new releases
2008: 40 new releases
2009: 34 new releases
2010: 26 new releases
2011: 21 new releases
2012: 29 new releases
2013: 28 new releases
2014: 22 new releases
In terms of new releases (counting only those released on this website), the year wasn't a very good one; in fact, it ranks as the third worst of the past decade. Some maps that were released through the Steam Workshop didn't end up on this site at all, but some of those that didn't were even at best borderline Hot Maps while the rest were either irrelevant or Dukematch maps. So, even if we generously added the borderline maps to the total (which already includes Bowels of Hell Space Station since it doesn't seem to have been available before even though it's almost two decades old), the total number of releases still wouldn't look very good. The good news is that the Workshop has encouraged people to map and that the newcomers have improved steadily throughout the year. Another Workshop consequence seems to be the lack of Polymer maps. These maps were never particularly popular due to optimization problems but their obvious incompatibility with the Megaton Edition has further eroded the popularity of the renderer.
There was an apparent lull in mapping activity in the first half of the year but that could have been due to the fact that many mappers were working on Duke Hard. Of course, big releases always count as single releases; counting the individual maps would be bad statistics. Things really started to improve toward the end of the year so hopefully that carries into the new year. So, happy 2015!
December 25, 2014: Duke64Holiday!
No Christmas would feel complete without another holiday tale of Duke fighting the alien scum. This year's chapter comes from Duke64Nukem, whose Duke64Holiday is the first Nuclear Winter usermap on this site. To launch the map (in EDuke32), all you need is the Nuclear Winter grp in the same folder as your EDuke32 installation. Launch EDuke32 and choose Nuclear Winter from the drop-down menu. The Megaton Edition is now on sale for less than 3 euros (probably the same in dollars) on Steam so check it out in case you need the expansion pack.
Merry Christ-less Christmas!
December 10, 2014: JMW-SP2!
JMW released his first single-player map back in November and now he's got another one for you. JMW-SP2 is a space map, the fifth this year actually, which is a pretty good achievement considering none were released in all of last year.
December 8, 2014: Hogwash!
Sorry for the slight delay in updates; let's try to get this thing going on again for the sake of Christmas. Here's Hogwash: Siege on Triton 3, and underwater Hottie.
And don't forget to check out Dookie Nukem, no doubt the shittiest mod ever made.
November 23, 2014: Red 2 & BioShock!
Merlijn v. Oostrum's classic Red series has gotten its second map update. Check Red 2: Alien Occupation for an improved version of Red 2, the first Hot Map in the Red series.
Also, BioShock Infinite reviewed. One of the best games ever!
November 6, 2014: JMW-SP1!
New maps are dropping like snow flakes in my city at the moment. The latest addition is a temple-themed map by JMW: Go check out JMW-SP1.
October 31, 2014: Helloween!
Since the return of MSDN with a groundbreaking new design and updated Hot Map links on October 20, five new maps have been released. Ignoring the fact that these had been in development for several weeks/months prior to October 20, MSDN takes full credit for this burst of creativity which was preceded by months of stagnation. This is merely a testament to the fact that Duke3D mapping has become synonymous with MSDN.
To celebrate this Halloween, I have two new space maps for you; of the five new maps a mind-numbing three are space themed, which is an interesting statistical anomaly considering the usual scarcity of space-themed usermaps. In any case, here's Duke Nukem For3ver Part 2 by StarCraftZerg and here's Moonlight from Artem Nevinchany. (For the other maps, check Return to Taygeta and Urea 51.)
And with all the ghosts flying around, remember kids that true courage lies in the overcoming of fear, not in its absence: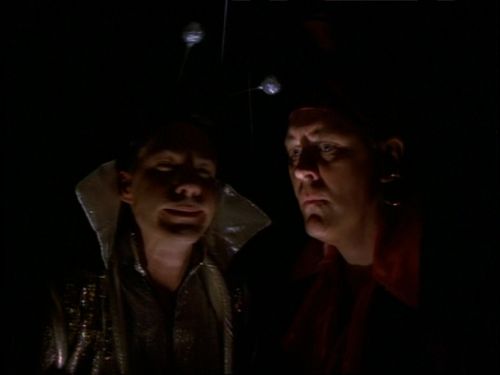 October 27, 2014: Sevenpolis!
MRCK is yet again back with yet another city map. Check out Siebenpolis for some vertical, 7-paletted action.
October 20, 2014: Updates!
I have finally fixed all the broken Fileplanet links but there are still some issues with case sensitivity. So, if you're trying to click a link that points to abc.zip but the actual filename is ABC.zip, then you're going to get a "not found" error. So, keep that in mind for now. Quick edit: When I said "all" I meant "Hot Maps". I'll get around to fixing the rest later.
I also changed the layout a bit. It was just a quick one-hour tinkering with the css file so some things are bound to look a bit off, especially if your monitor resolution is low.
Last but not least, here's a new map, Cold in November by Sanek.
September 8, 2014: Halls of Doom!
A short Doom influenced episode by Zykov Eddy reviewed here.
September 5, 2014: Insurance Overload!
Conrad Coldwood who released a few good maps nearly a decade ago has resurfaced with a new map. Check out Insurance Overload.
August 25, 2014: Flood Area!
Here's a nice little city map to wrap up the summer: Flood Area. Also, Betrayer (the game) has been reviewed.
August 9, 2014: Duke Craft!
All you Minecraft lovers out there should enjoy this one: Duke Craft has Duke killing aliens in a map that looks as if it came straight from Minecraft.
July 25, 2014: Slum Noir!
Here's Slum Noir, an unorthodox city map by Oasiz.
Seven months into the year and we have exactly seven new releases meaning a pitiful map-per-month pace. Things have slowed down after last August's spike. In any case, there's still plenty of time for things to pick up again.
June 28, 2014: Duke Hard review!
And, finally, here's a review of Duke Hard (see the previous update). (Note that I'm labeling this CBP as a TC so it can be found here rather than the Hot Maps section where all the other CBPs are.)
June 23, 2014: Duke Hard!
The long-awaited Duke Hard CBP episode has finally been released. The CBP consists of 17 maps (including one by me), all taking place in one building. We've had a relatively dry first half of 2014 in terms of new releases: Hopefully this mega-CBP provides a boost to mapping activity.
In any case, I'm unable to play the episode at this very moment so for now all I can give you is a bunch of links and a kickass poster:
-ModDB Duke Hard page
-Quick download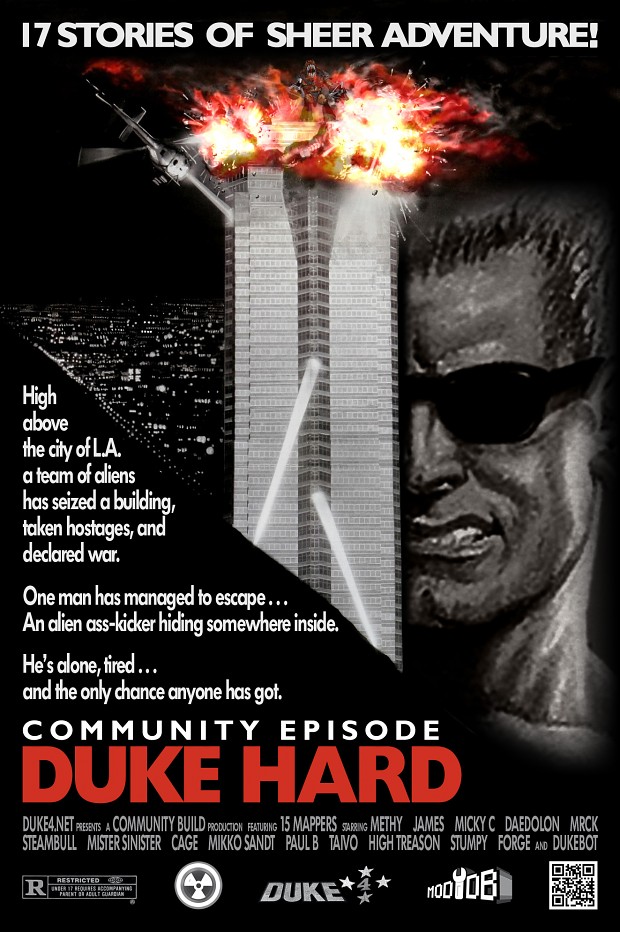 I'll try to come up with a review this weekend.
---
Visitors: 2194 + 225 000 +
&copy Mikko Sandt 1999-2014
Quality stuff since -99